Bon Organic Tampons Regular 16
100% cotton, certified organic by an independent organic certification organisation that is recognised worldwide. BON tampons are comfortable, easy to use, and are highly absorbent.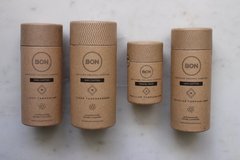 Specials are for online purchases only, don't miss out! -
Call
or
email
us to check for availability.
BON's canister although petit in statue has been designed to handle the harshest of handbag environments. No more white missiles, promise!
Let BON make life that little bit easier with the monthly delivery option. Select your products and have them simply turn up on your door.
Each pack contains 16 Regular tampons.
100% ORGANIC
BON Health Group provides premium 100% certified organic womens sanitary health products that are made from 100% organic cotton.
Using BON 100% certified organic sanitary products eliminates the risk of coming in contact with potentially harmful chemicals, fragrances & pesticides and significantly reduces the risk of toxic shock syndrome & its nasty side effects.
BON 100% certified organic womens sanitary health products are not deodorised – again, avoiding any harmful chemicals. Several Doctors and Gynaecologists have persuasive arguments around going 100% organic and recommended 100% ORGANIC TAMPONS and PADS to avoid allergic reactions and causable syndromes from the chemicals and fragrances found in regular sanitary womens health products.
Materials used to make BON packaging are biodegradable and dissolve naturally in landfills.
BON 100% certified organic womens sanitary health products are produced without the use of chemical fertilizers, herbicides, insecticides or fungicides keeping the environment clean and organic. BON production methods help prevent the contamination of the air, water and soil around the world. BON organic growing methods prevent topsoil erosion, improve soil fertility, protects groundwater, conserves energy and deforestation. BON materials help improve the health of wildlife and ecosystems. The BON production process protects the health of applicable farm workers.
Simply put, you deserve nothing less than the best - try BON today.