In Essence Aromatherapy Essence of Australia Aromatic Candle
A magical, bittersweet aroma capturing Australia's natural beauty.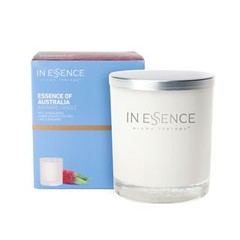 Specials are for online purchases only, don't miss out! -
Call
or
email
us to check for availability.
Transport yourself to the wide open spaces and blue skies inherent to the Australian outback in all its wonderment. The intoxicating, heady mix of Australian native plants, including Sandalwood and Lemon Scented Eucalyptus provide a balsamic trace intensified by the delicate, leafy freshness of the Melaleuca plant. The inclusion of fresh Lime and Bergamot add a further depth and richness to a uniquely Australian blend.
Each candle provides up to 70 hours of burning time when used under normal conditions.
Made from natural soy wax, using unbleached cotton wicks and premium glass tumblers.
Never leave a burning candle unattended. Store below 30°C. For external use only. Keep out of reach of children.
In Essence, the complete Aromatherapy wellbeing destination
To choose In Essence is to embark on a journey. The destination is towards improved health and wellbeing both physical and emotional; it is one committed to renewed beauty and improved skin tone; it is one guaranteed to delight the senses with luscious textures, exquisite aromas and aesthetic elegance; it is one of endless possibilities and tangible results.
Celebrated as the pioneer of the Aromatherapy movement in Australia, In Essence has realised the dream of all customers seeking a natural and luxurious product. From humble beginnings in 1986 with twenty pure essential oils on offer, In Essence now boasts a comprehensive wellbeing range.
Products range from therapeutic balms and creams, botanically active skincare, body balms and moisturisers, and readymade massage blends to scented candles and reeds for home ambience. All products contain In Essence pure essential oils and naturally active botanical bases. The final delivery is the merging of Mother Nature's laboratory with the expertise of leading industry professionals.
Begin your journey now and delight in the In Essence experience.