In Essence Aromatherapy Thai Temple Aromatic Reeds
An enriching and alluring aroma capturing the tranquillity and stillness of a Thai temple.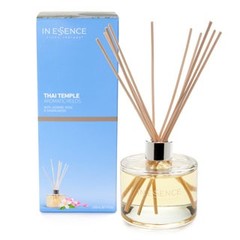 Specials are for online purchases only, don't miss out! -
Call
or
email
us to check for availability.
Transport yourself to the wonder of a peaceful and majestic haven, with this precious mix of Jasmine, Rose and Sandalwood. Essential oils of Patchouli, Myrrh and Orange provide rich, magical overtones. A delicate, sensual aroma of florals, woods, resins and sweet citrus notes.
Designed to provide sensory pleasure in your home for up to 10 weeks.
Remove the stopper from the bottle and insert the reeds into the jar, ensuring reeds fan out. The essential oil blend is absorbed into the reeds and will subtly fragrance a small to medium sized room.
Tip: Reverse the reeds into the pure essential oil blend once or twice a week to boost the fragrance.
For use as a room frgrance only. Avoid contact with wood surfaces and fabrics as oil may cause staining. Avoid excessive heat or open flames. Not recommended for topical use. Avoid contact with eyes. Do not swallow. Keep out of reach of children.
Store below 30oC.
In Essence, the complete Aromatherapy wellbeing destination
To choose In Essence is to embark on a journey. The destination is towards improved health and wellbeing both physical and emotional; it is one committed to renewed beauty and improved skin tone; it is one guaranteed to delight the senses with luscious textures, exquisite aromas and aesthetic elegance; it is one of endless possibilities and tangible results.
Celebrated as the pioneer of the Aromatherapy movement in Australia, In Essence has realised the dream of all customers seeking a natural and luxurious product. From humble beginnings in 1986 with twenty pure essential oils on offer, In Essence now boasts a comprehensive wellbeing range.
Products range from therapeutic balms and creams, botanically active skincare, body balms and moisturisers, and readymade massage blends to scented candles and reeds for home ambience. All products contain In Essence pure essential oils and naturally active botanical bases. The final delivery is the merging of Mother Nature's laboratory with the expertise of leading industry professionals.
Begin your journey now and delight in the In Essence experience.