Swisse Ultiboost Chlorophyll Liquid 500mL Spearmint Flavour
Swisse Ultiboost Chlorophyll contains premium quality ingredients to help cleanse, rejuvenate and energise the body.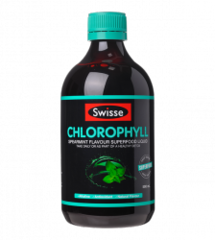 Specials are for online purchases only, don't miss out! -
Email
us to check for availability.
IN STOCK NOW!
Based on 25+ Years of Research

A natural superfood

Alkalising drink to help counteract the acidic nature of processed foods

Spearmint Flavour derived from natural spearmint oil

Chlorophyll is the green pigment found in plants, responsible for absorbing and transforming energy from the sun. This process is called photosynthesis and is the basis for sustaining the life of all plants. As humans obtain their food supply by eating plants, photosynthesis can be an important source of energy. Chlorophyll is an antioxidant and is also alkaline, which can help to counteract the acidic nature of processed foods.
The structure of a chlorophyll molecule is very similar to the structure of haemoglobin – the molecule responsible for transporting oxygen around the body. Haemoglobin takes up oxygen as the blood passes through the lungs and releases it as the blood passes through the body, providing every cell with the oxygen it needs to function.

Can be taken by pregnant or breastfeeding women
Adults: One-three teaspoons (5-15ml) in the morning, preferably before food. Can be taken straight or diluted in water or juice.
Shake well before use. Do not use if cap seal is broken.
Store below 25ºC. Refrigerate after opening.
Purified water, sodium magnesium chlorophyllin (2%), preservative (potassium sorbate), antioxidant (ascorbic acid), ethanol, spearmint oil.