Swisse Ultiboost Memory & Focus 50 tablets
Swisse Ultiboost Memory + Focus contains premium quality ingredients. It is a comprehensive formula to help safeguard the dietary intake of nutrients that are important for supporting brain function and stress relief.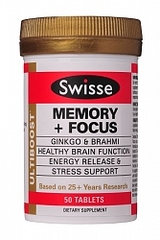 Specials are for online purchases only, don't miss out! -
Email
us to check for availability.
Features & Benefits:
Based on 25+ Years of Research
Helps support brain function, assist with stress support and help energy release from food.
Swisse Ultiboost Memory + Focus is a comprehensive formula containing ginkgo and brahmi. Ginkgo helps maintain healthy circulation and the delivery of oxygenated blood to the brain. Brahmi is included to support memory function and recall.
B vitamins are also included to help support the body during times of stress and help with the metabolism of food into energy.
Adults: One tablet twice daily, during or immediately after a meal, or as directed by a healthcare professional.
Store below 30°C. Do not use if cap seal is broken.
Each Tablet Contains:
Vitamin B1 (thiamine hydrochloride 25 mg)
Vitamin B2 (riboflavin 35 mg)
Nicotinamide 20 mg
Vitamin B5 (pantothenic acid 64.13 mg from calcium pantothenate 70 mg)
Vitamin B6 (pyridoxine 20.56 mg from pyridoxine hydrochloride 25 mg)
Vitamin B12 (cyanocobalamin 25 mcg)
STANDARDISED EXTRACTS EQUIVALENT TO DRY:
Brahmi (Bacopa monnieri whole plant 3.73 g, Bacosides calculated as Bacoside A 84 mg)
Ginkgo (Ginkgo biloba leaf 3.0 g, ginkgo flavonglycosides 14.4 mg, ginkgolides and bilobalide 3.6 mg)
If symptoms persist consult your healthcare professional.

Do not take whilst on warfarin therapy without medical advice.

Vitamin supplements should not replace a balanced diet