Artemis Itch Calm Cream 30mL (not available - being reformulated)
Topical treatment for itchy skin!
Itch Calm Cream is a steroid free, antiseptic cream formulated to calm a dastardly itch! The cause of the itch or irritation can be from the likes of eczema, insect bites, rashes, chicken pox or a bee sting. The results are cooling and instant which makes this cream ideal for the family First Aid Kit.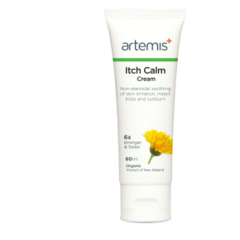 Specials are for online purchases only, don't miss out! -
Email
us to check for availability.
This itch antidote strangely enough contains Nettle, Chickweed and Calendula; three medicinal herbs which work effectively together to alleviate itching. The cream can be applied topically and for best results, used in conjunction with Itch Calm Oral Liquid. Psoriasis, dermatitis and thrush sufferers can ease their symptoms and irritation too. Itch Calm Cream will cut to the chase and ease your itch. Especially ideal for itchy and scratchy kids!
Apply a thin layer to affected area 3-4 times per day. Can be applied more frequently if required.
For best results: use in conjunction with the Itch Calm Oral Liquid to additionally support and accelerate cleansing from within.
100% organic fresh-plant extracts (30% v/w) of:
Calendula (Calendula officinalis flos): Antiseptic, wound-healing and anti-inflammatory properties with soothing actions in eczema, dermatitis, psoriasis and wounds caused by the scratching of itchy skin.
Chickweed (Stellaria media herba): A natural antipruritic (an antipruritic is an "anti-itch drug" such as antihistamines) that helps relieve itching and irritated skin. It has a cooling effect on the skin.
Nettle (Urtica dioica herba): An anti-allergic herb with a purifying and detoxing action that relieves itchiness. It has a high mineral content of calcium, magnesium, iron and enzymes that provide important nutrients to cleanse and restore irritated skin.
Plant extracts are in a natural aqueous base that is hypo-allergenic, 100% non-steroidal and petrochemical free This cream does not contain any animal derived products, artificial colours or fragrances, detergents, GE-modified plant materials or extracts, mineral oils, parabens, propylene glycol, sulphates or synthetic fillers. Not tested on animals.
Suitable for all ages, including babies. External use only. If symptoms persist, see your health professional.
Safety
Check ingredients for any known allergies, specifically members of the Compositae/daily family (Calendula)

Discontinue use if irritation occurs

No restriction on long term use
Keep cool out of sunlight and close lid firmly after use.
Discolouring of this natural product may occur and does not affect the efficacy or quality.
We are one of New Zealand's leading natural health companies, offering a premium range of natural products carefully crafted from medicinal plants. Our 100% natural range includes oral liquid supplements, remedial bodycare products and certified organic health teas. All products are manufactured in Dunedin and sold in health stores, pharmacies and online, both in New Zealand and exported around the world.
Our mission is to promote, inform and empower people to proactively maintain their health. We strive to maintain the highest ethical values in creating products of real worth and integrity.
Our story
Artemis was founded in 1998 by Sandra Clair, a registered medical herbalist with an extensive list of qualifications in medical anthropology and health science from Swiss, Australian and New Zealand universities. Sandra also has special clinical training in Traditional European Medicine.
In 2012 Artemis Natural Healthcare was awarded:
Deloitte Fast 50 - Fastest Growing Manufacturer in the lower South Island
Westpac OBIZ - Ethics Award for ethical and environmentally responsible business practices
What makes us different
The Artemis range originates from authentic Swiss formulas, supported by the latest research in plant-based medicine. Our products are formulated to provide essential and fast-acting natural health solutions to empower people to look after themselves.
The key to our products' effectiveness:
Unique and comprehensive recipes of professional strength

Medicinal-grade herbs with high levels of active constituents

100% natural and certified organic ingredients
Our manufacturing processes are independently audited by BioGro, ensuring the delivery of reliable quality for effective, natural health solutions. Our premium products are beneficial for all ages, including babies. They are designed to be safely used alongside pharmaceutical medicine and during pregnancy and breastfeeding. We pride ourselves on our impeccable safety record.
Commitment to quality
Artemis products are strictly GE free and hypo-allergenic. They do not contain any gluten, lactose, sugar, artificial flavours, colours, fragrances, detergents, mineral oils, paraffin, parabens, pharmaceutical drugs, propylene glycol or synthetic fillers. They are not tested on animals.
Each product is developed with rigorous testing, ensuring the most effective formulation is achieved.
Unlike many mass produced medicines, Artemis products are seasonally manufactured by hand in small batches from the latest available harvests to ensure maximum freshness and potency. We source our plant ingredients from organic suppliers throughout New Zealand and Europe.
The unique environment and climate in New Zealand produces some of the best quality medicinal plants in the world. We sustainably wild harvest a number of herbs in the unpolluted New Zealand mountain landscape. This care for our raw ingredients provides herbs of pure quality and high levels of active constituents, which maximizes the product's efficacy. It also ensures that our ingredients are grown without toxic herbicides or pesticides that are harmful to both the human body and the environment.