Beèzee Balm 15g
Apply to areas of your face and body that require extra moisturizing!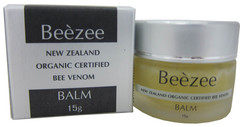 Specials are for online purchases only, don't miss out! -
Call
or
email
us to check for availability.
Beezee Bee Venom products are formulated for a rapid anti-ageing effect. The bee venom will gently stimulate your facial muscles to tighten and firm the skin, reducing the effect of frown and laughter lines. A natural alternative to Botox! Suitable for all skin types.
How this process works Bee venom, a recent breakthrough in anti-aging due to its restorative properties, stimulates the skin and relaxes muscles that cause dreaded wrinkles. It works by gently stinging the skin with melittin and apamin, both derived from bee venom. The skin reacts as if it has been stung, thereby directing blood flow to the applied area and jumpstarting the production of elastin and collagen, which are essential to youthful-looking skin. The bee venom acts by "tricking" the skin to produce these naturally occurring proteins.
Why New Zealand Bee Venom New Zealand, located at the bottom of the South Pacific, sometimes considered 'gods own' for a simple reason. Largely undeveloped and covered by lush vegetation make New Zealand the preeminent place for Bees to collect nectar and pollinate with native and natural flora. This allows bees to carry out their natural behaviour undisturbed by pesticides and harmful man-made toxins. This leaves the Bee Venom completely Organic and Natural.
Apply to areas of your face and body that require extra moisturizing, morning and night.
Essential Ingredients: Almond Oil, Beeswax, Avocado Oil, Vitamin E, Manuka Honey and Bee Venom