Blackmores Appetite Manager 90
Supporting achieve your weight loss goals by helping you feel fuller for longer
Blackmores Appetite Manager contains plant compound Luralean that helps you feel fuller for longer to support healthy weight management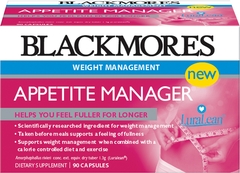 Specials are for online purchases only, don't miss out! -
Email
us to check for availability.
*Contains Luralean, a next-generation plant fibre, scientifically validated for weight management
*Helps you to feel fuller for longer when taken before meals
*Supports weight goals when combined with a calorie controlled diet and exercise

LuraLean is a proprietary concentrated soluble fibre from the root of the plant Amorphophallus rivieri. Soluble fibre has a high water holding capacity and forms a viscous or thickened gel when added to water.

Scientists believe LuraLean's capacity to absorb and hold water is the mechanism behind how it supports weight goals, healthy cholesterol levels and feelings of fullness. LuraLean interacts with liquid in the stomach and mixes with the meal, increasing the thickness and overall bulk in the stomach. The resultant gel promotes a feeling of satiety while travelling through the gastrointestinal tract and a feeling of fullness at meal times. After eating there is a prolonged feeling of fullness and reduced sensations of hunger.

The viscous gel that the fibre forms in the stomach also delays gastrointestinal travel. There is some research that shows there is a decreased re-absorption of bile acids and cholesterol. In addition, the highly viscous fibre present in the digestive tract may reduce contact between the food and the gut wall leading to reduced absorption of fats.
Adults: Take 2 capsules with a large glass of water, three times a day, half an hour before meals.
Amorphaphallus rivieri conc. extract equiv. dry tuber 1.3 g (Luralean™)
*Taking with insufficient water may result in choking or intestinal blockage
*Do not take if you have difficulty swallowing or have had gastric surgery or banding
*If you are pregnant or breastfeeding consult your healthcare professional before use
Blackmores, a leading natural health brand, improves peoples' lives by delivering the world's best natural health solutions, to become peoples' first choice in healthcare. We achieve this by translating our unrivalled heritage and knowledge into innovative, quality branded healthcare solutions that work. Our high quality products, reliable free naturopathic advisory service and award-winning website are among the many reasons Blackmores is the most trusted name in natural health.