Blackmores Bio ACE Excell Caps 80
Supporting antioxidant defences with nutrients and herbs
A high potency antioxidant formula combining vitamins, minerals and herbs to more effectively support defences against free radicals than single nutrients used alone.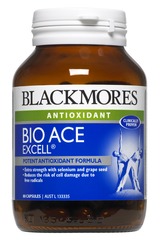 Specials are for online purchases only, don't miss out! -
Email
us to check for availability.
*Combines potent nutritional and herbal antioxidants to more effectively support the body's defences against free radicals than single antioxidants used alone
*Includes vitamin E and grape seed to help maintain heart and blood vessel health via an antioxidant effect on LDL-cholesterol ("bad" cholesterol) and by supporting peripheral circulation
*Contains milk thistle to support detoxification and other liver functions
*A source of natural vitamin E, which has approximately twice the bioavailability of synthetic vitamin E, so is retained longer and is twice as active in the body
*Contains an organic form of selenium, which is more easily utilised by the body than inorganic selenium
*Includes folic acid and vitamins B1 and B12 to support the metabolism of homocysteine, high levels of which may compromise vascular health

Bio ACE Excell is a potent antioxidant formula providing nutrients and herbs that support the body's defences against free radical-mediated damage to cell membranes.
Free radicals are common in the body, arising through a variety of mechanisms. Some free radicals are generated naturally during normal day-to-day living. However pollutants, sun, alcohol, cigarette smoke and some medications can generate an excess of free radicals, and this can interfere with the cells' ability to function normally. Antioxidants are nutrients that help to offset the effects of free radicals.
Vitamins C and E are well documented for their potent antioxidant activity and are combined here with betacarotene (another potent antioxidant, which can be converted in the body into vitamin A), zinc (which aids skin function, wound healing and oil gland function), and selenium, an essential antioxidant mineral that supports many body functions, including liver function and immunity.
Grape seed extract contains highly bioavailable and powerful antioxidants called oligomeric procyanidins (OPCs), which appear to be both complementary to and synergistic with vitamins. (For example, they support the free radical-scavenging effect of vitamin C).
Grape seed supports the structure and function of the blood vessels (especially the capillaries) and consequently helps maintain healthy peripheral circulation.
Milk thistle has a strong free radical-scavenging and antioxidant action that supports the integrity of the liver cell membranes. It supports the body's detoxification processes by helping to maintain liver levels of important antioxidant enzymes (such as glutathione peroxidase), which are involved in the metabolism of a wide range of drugs, hormones and chemicals, including alcohol and nicotine. Milk thistle also supports the liver in its replacement of old and damaged cells with new, healthy cells.
Folic acid and vitamins B1 and B12 support the body's metabolism of the amino acid homocysteine, high levels of which may compromise vascular health.
Multiple, complementary antioxidants can be more supportive to the body's defences than large amounts of a single antioxidant. The nutrients and herbs in Bio ACE Excell work together to support free radical scavenging.
Adults - Take one to two capsules per day meals, or as professionally prescribed.
Vitis vinifera (Grape seed) extract
equivalent to dry seed 1200 mg
standardised to contain procyanidins 8.5 mg
Silybum marianum (Milk Thistle) extract
equivalent to dry fruit
standardised to contain flavanolignans 700 mg
Betacarotene (natural source) 3 mg
Vitamin C
from: 250 mg
Ascorbic acid 150 mg
Calcium ascorbate 121 mg
Vitamin E (d-alpha-Tocopherol 67.1 mg) 100 IU
Vitamin B5 (Calcium pantothenate) 55 mg
Vitamin B6 (Pyridoxine hydrochloride) 25 mg
Zinc amino acid chelate
equivalent to elemental zinc 25 mg
5 mg
Vitamin B12 (Cyanocobalamin) 50 mcg
Folic acid 150 mcg
Vitamin B1 (Thiamine nitrate) 10 mg
Selenomethionine
equivalent to elemental selenium 186 mcg
75 mcg
*Vitamin B6 is contraindicated in Levodopa therapy
*Folic acid may alter the response to methotrexate and other folic acid antagonists, consult your health care professional
*This product contains selenium which is toxic in high doses. Do not exceed a daily dose of 100 mcg selenium from all sources other than food. Selenium containing products are not suitable for use by children under the age of 15 years.
*Always read the label. Use only as directed.
Blackmores, a leading natural health brand, improves peoples' lives by delivering the world's best natural health solutions, to become peoples' first choice in healthcare. We achieve this by translating our unrivalled heritage and knowledge into innovative, quality branded healthcare solutions that work. Our high quality products, reliable free naturopathic advisory service and award-winning website are among the many reasons Blackmores is the most trusted name in natural health.