Centrum Kids Orange Multi 60 tablets
With so many factors such as diet and lifestyle affecting nutrient levels in our bodies, it is often difficult to achieve adequate vitamin and mineral intake to maintain general health and well-being. That's where Centrum can help.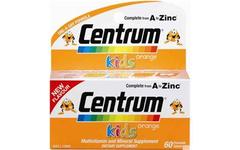 Specials are for online purchases only, don't miss out! -
Email
us to check for availability.
Why Centrum Kids? A balanced diet containing essential vitamins and minerals is important for the growth & development of your kids. That's why Centrum Kids is a complete multivitamin which is developed to give your child's body the right nutrients at the right levels, so their bodies can put Centrum to work in the way that is best for them. Centrum Kids is an ideal supplement for fussy eaters who might miss out on some important vitamins and minerals if their diet is inadequate. How is it developed? Centrum Kids is a complete & scientifically balanced multivitamin & mineral supplement containing 18 essential vitamins and minerals including Vitamin C to help maintain healthy teeth and gums. It provides the right combination of essential nutrients that children need every day to supplement any nutritional gaps and help ensure healthy growth, development & performance. Recommended Dietry Intakes (RDIs) and Centrum Centrum Kids does not contain excessive levels of vitamins and minerals but is developed with levels close to the RDIs as the role of a multivitamin is to supplement the diet, not replace it. Centrum Kids is ideal for filling nutritional gaps in their diet. Who is it for? Centrum Kids is available as a great tasting strawberry flavoured chewable tablet for children aged 3-12 years. Benefits: It is sometimes hard to get children to eat a balanced diet, resulting in nutritional gaps. Centrum Kids has been developed to help supplement any nutritional gaps and provide the essential nutrients children need everyday. Vitamin A, C and E may help support a healthy immune function. A balanced blend of 18 essential vitamins and minerals to support the healthy growth of children With Vitamin A essential for good eyesight. Vitamin C helps maintain healthy teeth and gums.
Centrum: Children over 3yrs: Chew 1 tablet daily.
Vitamin A (29% as Beta-Carotene) Vitamin C 60 mg Vitamin D 400 IU Vitamin E 30 IU Vitamin K 10 mcg Thiamin 1.5 mg Riboflavin 1.7 mg Niacin 20 mg Vitamin B6 Folic Acid 400 mcg Vitamin B12 6 mcg Biotin 45 mcg Pantothenic Acid 10 mg Calcium 108 mg Iron 18 mg Phosphorus 50 mg Iodine 150 mcg Magnesium 40 mg Zinc 15 mg Copper 2 mg Manganese 1 mg Chromium 20 mcg Molybdenum 20 mcg