Children's Oxylent Multivitamin Supplement Drink Bubbly Berry Punch 30 Sachet
Nurtures: Supports child development Strengthens: Supports growing bones and muscles Supports: Supports a healthy immune system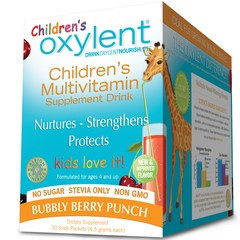 Specials are for online purchases only, don't miss out! -
Email
us to check for availability.
Benefits:
Nurtures: A balance of the highest-quality nutrients supports your child's development and well-being. Vitamin A supports growth, Vitamin E and B vitamins support developing nervous systems, and zinc supports brain function.
Strengthens: Vitamin D3, calcium, and magnesium support the health of growing bones and muscles. Recent research shows that even kids in sunny climates don't get enough vitamin D.
Protects: Vitamins A, C, and D, and the mineral zinc promote the health and function of your child's immune system. Vitamin C, a water-soluble vitamin, is important to replenish daily.
Features:
Superior multivitamin/mineral content, with a full spectrum of essential nutrients

Optimum bioavailability

Science-backed ingredients of superior quality

Great Bubbly Berry Punch taste kids love!

No Sugar! Sweetened with pure stevia

No gluten, diary, soy, herbs, caffeine, or anything artificial
Recommended for People who:
Want a superior quality children's daily multivitamin

Are looking for an alternative to chewables & gummies

Need a healthy alternative to sugary drinks
Adults: 1 packet daily; 2 when traveling or exercising.
Children 5+: 1/2 packet daily. Shake packet and pour contents into 118-177 ml of water to taste.

As with any dietary supplement, you should consult a doctor before taking if pregnant or nursing.

Gluten, Dairy and Caffeine Free. Keep out of reach of children. Store in a cool, dry place.
Other Ingredients: citric acid, natural fruit flavours, beet powder,rebaudioside A (stevia extract).
Oxylent® is an award-winning, 5-in-1 daily multivitamin—all in one refreshing drink. Instead of swallowing pills or tablets, add a packet of Oxylent to water and enjoy a sparkling drink that delivers vitamins, minerals, electrolytes, amino acids, and antioxidants with easy absorption. The unique formula includes 1000 mg vitamin C, 1000 IU vitamin D3, 100% RDI or more of several B vitamins, the amino acids L-Arginine and Lysine, a full panel of superior-quality Albion® minerals including zinc, selenium, iodine, calcium, and magnesium, and the unique ingredient S.O.D. (or superoxide dismutase), which is a powerful antioxidant enzyme that eliminates billions of free radicals. Prenatal Oxylent® is recommended by the American Pregnancy Association and offers women an alternative to swallowing large pills—adding a packet to water creates a refreshing sparkling drink that delivers a full-spectrum prenatal multivitamin containing folic acid, iron, choline, vitamin C, vitamin D3, and a full panel of Albion minerals—including Ferrochel® iron, which causes less constipation and gastrointestinal upset than typical iron. Children's Oxylent® is a superior quality multivitamin that is a great-tasting drink kids love that comes in fun stick-packets that kids can mix themselves. All Oxylent multivitamins contain no sugar, GMOs, dairy, gluten, soy, or anything artificial.