Clinicians ProstaCare 60 capsules
Clinicians ProstaCare is a comprehensive combination of minerals, amino acids and herbs to support healthy hormone balance, prostate function and maintaining optimum health of the male urinary system.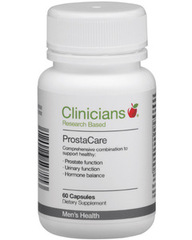 Specials are for online purchases only, don't miss out! -
Email
us to check for availability.
ProstaCare Benefits

Contains a unique synergistic combination of herbs, amino acids and minerals to help support healthy prostate function and hormone balance
Formula supports healthy male hormone balance
Contains lycopene, a powerful antioxidant known to support prostate health
Contains Saw Palmetto, a herb used to support male reproductive health for centuries
Contains Nettle root that has been traditionally used to support prostate gland function
Contains zinc, an essential antioxidant mineral for prostate and male hormonal health
Contains L-alanine, L-glutamine and L-glycine amino acids found in seminal fluid that lubricate the urethra and support prostate health
ProstaCare Features
Research based, synergistic combination of herbs and nutrients to support prostate function and healthy hormone balance
Can be used alongside standard conventional medications and treatments
Safe for long term use
Suitable for all age groups
An encapsulated formula provides an easy way of taking unpalatable herbs
Saw Palmetto has been used as a supporting herb for the male reproductive system for centuries. Saw Palmetto is derived from the berries of a small palm tree. It has been shown in studies to support optimal function of the male urinary system. Nettle (Urtica diocia) grows extensively in temperate climates particularly in waste regions. It has been used as a green food source, and as a commercial source of chlorophyll. The nettle root has been traditionally used to support prostate gland function. Lycopene is a potent carotenoid that provides significant support for a healthy prostate gland. Zinc is essential to the health of the prostate gland. Prostatic fluid tends to very high in this mineral.
We recommend that you use Clinicians ProstaCare alongside Clinicians Krill Oil 500 or Omega-3 Fish Oil and MultiVitamin and Mineral Boost. You may also wish to consider Clinicians Men's Hormone Support. Clinicians MultiVitamin and Mineral Boost is also a good addition to fill daily dietary gaps and support the body in its complex task of maintaining good health.
Recommended Dose:
Adults: Take 1 capsule twice daily to start in acute conditions. As maintenance, take 1 capsule daily.
Active Ingredients in 1 gelatin capsule:
Copper (from copper gluconate)
Zinc (from zinc methionine sulfate
L-Alanine
L-Glycine
Lycopersicon esculentum fruit ext.
(standardised to 6% [6mg] lycopene)

Serenoa repens (saw palmetto) berry ext. (standardised to 45% [72mg] total fatty acids)
Urtica diocia (nettle) root powder 10:1 ext.

Also contains: tapioca powder
The Saw Palmetto content in Clinicians ProstaCare may alter the requirement for Alpha1-Adrenergic Receptor Antagonist medications, use under health professional supervision.

Pregnancy & Breastfeeding: This product is specifically designed for men and therefore not suitable for pregnant or breast feeding women
Clinicians products support rather than compete with modern medicines. As medicines can deplete nutrients in the body, it was important to develop nutritional products that replenish the nutrients lost. Clinicians products, if taken on a regular basis, can also reduce the dependency on modern medicines.
Back in 1997, two pharmacists - Mike Cushman and Denis Kay - came to realise that the current pharmaceutical model was limited. Simply put, it couldn't provide the total answer to delivering wellness for their customers. Mike and Denis researched general and specific conditions to understand key drivers that triggered the imbalances that caused specific conditions. Along with this they researched the impact of modern medicines on body processes and their contribution to these imbalances.
And the result? The Clinicians product range of nutritional support. The product range developed includes not only general vitamin and mineral supplements, but also products for specific conditions and now a Works With Medicine range.