Codral Sore Throat Lozenge Lime & Lemon 16
These delicious NEW lozenges provide fast, soothing relief of painful sore throats.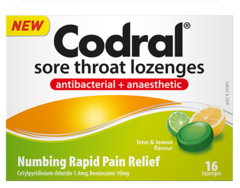 Specials are for online purchases only, don't miss out! -
Email
us to check for availability.
The double action formula contains an antibacterial agent and anaesthetic which:
Rapidly numbs painful sore throats
Helps to kill bacteria
Soothes and targets sore throats
Who can use this product
Adults and children 6 years and over.
How many:
Dissolve 1 lozenge slowly in the mouth.
Time between each dose:
Every 2-3 hours as required. Maximum 8 lozenges in 24 hours.
Each Lozenge contains:
Cetylpyridinium chloride 1.4mg
Cetylpyridinium chloride is an antibacterial agent that helps to kill bacteria.
Benzocaine 10mg
Benzocaine is an anaesthetic agent that rapidly numbs painful sore throats.
Keep out of reach of children.
Store below 25°C. Caution:
Caution:
This product contains glucose and sucrose.
FOR MEDICINAL USE ONLY.
See your doctor if symptoms persist. Do not take hot food or drink soon after using this product because it may burn your mouth.
Do not use this product:
For children under 6 years
If foil seal is broken
The CODRAL range of products provides effective temporary relief from a range of cold & flu symptoms. CODRAL products are Pharmacy Only medicines and contain two or more of four key ingredient types to help relieve different symptoms.