Comvita Cof-Ex Elixir Dry 100ml
Product is being reformulated, no estimated date of arrival
Comvita Cof-Ex Dry is the natural soothing formulation for dry throats.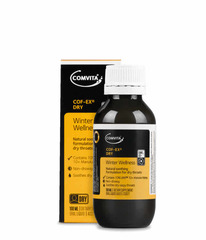 Specials are for online purchases only, don't miss out! -
Email
us to check for availability.
*Winter Wellness.
*Natural soothing formulation for dry throats.
*Contains 10% UMF 10+ Manuka Honey.
*Non-drowsy.
*Soothes dry raspy throats.
Adults: Take 5mL (1 teaspoonful) every 2 to 3 hours as required. Take up to 15mL daily.

Children over 2 years: Take 2.5mL (1/2 teaspoonful) every 2 to 3 hours as required. Take up to 7.5mL daily. Not to be given to children under 2 years of age without medical advice.
Comvita Cof-Ex Dry contains Marshmallow, Grindelia and Thyme.

Traditionally, these herbs have been used to soothe and relieve dry throats.

New Zealand Manuka has long been valued for its health-maintaining effects and Manuka Honey is gaining worldwide recognition for its unique properties.
WARNINGS:
Pregnant or Lactating Women: Not for use unless specifically advised by your healthcare practitioner.
Comvita sources ingredients in their purest form and optimises their natural active properties, delivering you the benefits of nature in its most powerful form.
Our origin is New Zealand, a place blessed with unique natural advantages. We believe it is the key to finding new ways to go beyond the expected.

At Comvita we understand nature and the way our bodies work. With our proven natural performance process we harness the power of nature for your health, bringing you high performance ingredients in a pure and powerful form.

We UNDERSTAND how modern living has led to an erosion of our bodies natural systems.

We OPTIMISE the natural active properties through our unique extraction and delivery systems.

We RESEARCH how the power of nature can recalibrate your body's natural immunity and support systems.

We SOURCE the purest and most sustainable natural ingredients available.