Comvita Olive Leaf Cardio Extra Strength 500ml
Olive Leaf Extract Extra Strength was specifically formulated to support a healthy cardiovascular system, including maintenance of normal cholesterol levels and blood pressure in healthy individuals. 50% stronger than our standard olive leaf extract, it is important to understand the actives have not been boosted in isolation, that is, the fresh leaf phenolic profile has been retained and increased in potency by 50%.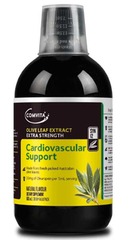 Specials are for online purchases only, don't miss out! -
Email
us to check for availability.
The evidence for cardiovascular health supports taking a relatively high daily dose of Olive Leaf Extract, it is this evidence that driven the development of this new product.
ADULTS: FOR CARDIOVASCULAR SUPPORT:
Take 5mL (teaspoonful), straight or mixed with beverage, 3 times a day with food (or 7.5mL twice a day).

FOR EVERY DAY ANTIOXIDANT SUPPORT: Take 5mL (teaspoonful), straight or mixed with beverage, 2 times a day with food (or 10mL once a day).

Do not exceed recommended daily intake. Do not use if cap seal is broken.

EXTRA STRENGTH EXTRACT: It is recommended each dose is diluted with water, juice, green tea or other beverage to taste
Olive Leaf Extract Extra Strength Cardiovascular Support is designed to provide superior support for your cardiovascular system while still maintaining general well-being.

Specifically for cardiovascular health:

*supports heart function.
*maintain healthy cholesterol levels in healthy individuals.
*support normal blood pressure in healthy individuals.
*The popular Natural flavour can be added to water, juice, green tea or other beverage.

Each 5ml contains 7.5g fresh olive leaf standardised to 33mg oleuropein.

In addition to superior cardiovascular benefits, you still get the other benefits associated with olive leaf extract.

Traditionally olive leaf extract has been used for:

*the relief of the symptoms of the common cold, influenza (flu), upper respiratory tract infections, sore throats and coughs.
*as an antioxidant agent.
*ease or relieve fevers.
*to support the immune system.
PREGNANT OR LACTATING WOMEN: Consult your healthcare practitioner before use.

STORAGE: To retain the integrity of this product, store below 30_C.
Comvita sources ingredients in their purest form and optimises their natural active properties, delivering you the benefits of nature in its most powerful form.
Our origin is New Zealand, a place blessed with unique natural advantages. We believe it is the key to finding new ways to go beyond the expected.

At Comvita we understand nature and the way our bodies work. With our proven natural performance process we harness the power of nature for your health, bringing you high performance ingredients in a pure and powerful form.

We UNDERSTAND how modern living has led to an erosion of our bodies natural systems.

We OPTIMISE the natural active properties through our unique extraction and delivery systems.

We RESEARCH how the power of nature can recalibrate your body's natural immunity and support systems.

We SOURCE the purest and most sustainable natural ingredients available.