Comvita Olive Leaf Complex Childs 200ml
Comvita Children's Olive Leaf Complex is made from fresh olive leaves, grown and packed on our own olive estate.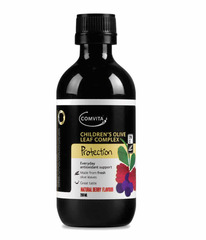 Specials are for online purchases only, don't miss out! -
Email
us to check for availability.
Our unique extraction system provides the combination of 12 key naturally occurring polyphenolics. We call this Synergy12™.

Comvita Olive Leaf Complex does not contain any olive leaf extract powders or artificially boosted oleuropein products.
Children: Take up to 5mL (1 teaspoonful) 2 times a day with food. Take up to 10mL daily. Can be taken straight or diluted with juice.
Comvita sources ingredients in their purest form and optimises their natural active properties, delivering you the benefits of nature in its most powerful form.
Our origin is New Zealand, a place blessed with unique natural advantages. We believe it is the key to finding new ways to go beyond the expected.

At Comvita we understand nature and the way our bodies work. With our proven natural performance process we harness the power of nature for your health, bringing you high performance ingredients in a pure and powerful form.

We UNDERSTAND how modern living has led to an erosion of our bodies natural systems.

We OPTIMISE the natural active properties through our unique extraction and delivery systems.

We RESEARCH how the power of nature can recalibrate your body's natural immunity and support systems.

We SOURCE the purest and most sustainable natural ingredients available.