Comvita Propolis Extract PFL 30 25ml
Comvita Propolis Extract - nature's powerful defence system.

Propolis Extract is one of our most popular propolis products. It is easy to use, gentle and soothing on the throat, water soluble, and ideal for people who want the full health-giving benefits of propolis without taking alcohol.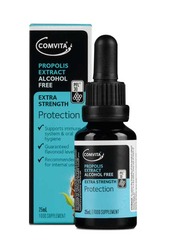 Specials are for online purchases only, don't miss out! -
Email
us to check for availability.
Recommended for internal use. Using the dropper apply directly into the throat or mix in water to drink or gargle at the onset of winter ills. Drink daily as an antioxidant and immune health support.

Nature's best defence for immune support - beneficial effects on strengthening and supporting immune health.
To support IMMUNE HEALTH: Mix 1.0mL in water and swallow, once daily.

To support ORAL HYGIENE: Mix 0.5mL in water, rinse around mouth and swallow, once daily.

Do not exceed recommended daily intake.
Bees make propolis by gathering resin or sap from plants and combining it with enzymes. They use it to keep their hives free from infection. For this reason propolis is known as 'nature's best defence'.

We mimic the clever bees by collecting propolis from our hives, using it as a key ingredient in many of our immune health products.
WARNINGS:
Propolis may cause severe allergic reactions. If irritation or swelling of the mouth or throat occurs, discontinue use and consult a healthcare practitioner. Not suitable for children under 2 years of age.

PREGNANT OR LACTATING WOMEN: Consult your healthcare practitioner before use.
Comvita sources ingredients in their purest form and optimises their natural active properties, delivering you the benefits of nature in its most powerful form.
Our origin is New Zealand, a place blessed with unique natural advantages. We believe it is the key to finding new ways to go beyond the expected.

At Comvita we understand nature and the way our bodies work. With our proven natural performance process we harness the power of nature for your health, bringing you high performance ingredients in a pure and powerful form.

We UNDERSTAND how modern living has led to an erosion of our bodies natural systems.

We OPTIMISE the natural active properties through our unique extraction and delivery systems.

We RESEARCH how the power of nature can recalibrate your body's natural immunity and support systems.

We SOURCE the purest and most sustainable natural ingredients available.