Difflam Plus Anaesthetic Honey Lemon 16 Lozenges
Difflam Plus ANAESTHETIC Lozenges have 3 A functions - Anaesthetic, Anti-inflammatory, Anti-bacterial. For pain, infection and inflammation associated with sore throats.
*Customer Declaration: I agree to use strictly as directed and if symptoms persist or if I suffer any adverse effects, I will contact my Doctor or Pharmacist. This is a "Pharmacy Medicine". By ordering this product I acknowledge that I have read and understand the information regarding the product.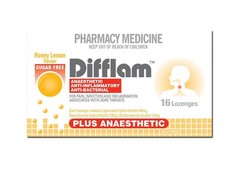 Specials are for online purchases only, don't miss out! -
Email
us to check for availability.
Difflam lozenges contain an anaesthetic to relieve pain, and an anti-inflammatory agent to reduce inflammation, for fast effective relief of symptoms of:
Difflam Lozenges are Sugar Free, suitable for Diabetics
Suitable for: Adults and children 6 years and over.
Directions for use: Suck ONE Lozenge slowly every 2-3 hours, as required. If symptoms persist, consult your Healthcare Professional.
Do not use in children under 6 years of age, unless recommended by a physician, pharmacist or dentist.
Lignocaine hydrochloride 4 mg,
Benzydamine hydrochloride 3 mg,
Dichlorobenzyl alcohol 1.2 mg.
Due to an anaesthetic effect, do not ingest hot food or drink directly after using lozenges. This products contains 23.6g Isomalt per 12 lozenges. Products containing isomalt may have a laxative effect or cause diarrhoea. Contains aspartame. Phenylketonurics are warned that this product contains phenylalanine.