Drion Day Pads 10
Drion Day Sanitary Pads packet contains 10 pads which give you absolute confidence in your comfort and hygiene every month.
Though, more than that, with Drion technology and biodegradable materials, you can feel reassured knowing that you are using a sanitary product that is healthy for your body and good for the environment.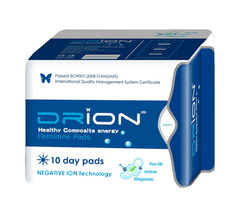 Specials are for online purchases only, don't miss out! -
Email
us to check for availability.
10 Reasons To Use Drion
Chemical free ... no chlorine, dioxin or plastics

Slim form fitting organic cotton

Ergonomically designed for comfort

Ultra absorbent ... contains pine resin polymers

Embedded far infrared negative ion strip to support comfort

Helps minimise odours

Individually sealed within re-sealable plastic free packs

Day pad packs contain complimentary vaginal PH self-test kit

Healthy & hygienic alternative to tampons

Biodegradable & compostable
About Drion Products
Eco-friendly Negative ions Ultra-Absorbent
Drion NZ distribute sanitary pads and pantiliners that are anatomically designed for health conscious women. Our Sydney based parent company, Drion AU is 100% Australian owned with state of the art production facilities and a research and development department that is among the best in the industry.
Drion sanitary products are hypoallergenic, ultra-absorbent and technologically advanced, and support menstrual comfort. They contain a green strip infused with far infrared rays and negative ions. Drion sanitary products also help minimise odours.
What are Far Infrared Rays?
Invisible to the human eye, far infrared rays produce gentle energetic vibrations (over 30 per second) that create warmth supporting healthy metabolism in tissues and cells.
What are Negative Ions?
Derived from the Greek word meaning up, negative ions are atoms with more electrons than protons. They are thought to have unique properties and are believed to support energy levels and positive mood.
Negative ions are abundant in natural environments such as the oceans, rivers, waterfalls, mountains, forests and after meteorological events such as lightning storms.
Conversely cations, atoms with more protons than electrons, are prevalent in man made environments such as homes, shopping malls and workplaces where computers, smart phones, wi-fi networks, artificial lighting and microwaves are commonplace. Cations can contribute to feelings of lethargy, tiredness and irritability.
How do Negative Ions work in Drion Sanitary Products?
In every Drion sanitary pad and liner there is a green strip that contains over 6100 negative ions per cubic centimetre. When this strip comes into contact with menstrual blood, it releases negative ions that may support wellbeing.
Why doesn't Drion supply tampons?
Tampons block the natural downward and outward flow of menstrual blood, causing the blood to back-up and stagnate, which often contribute to discomfort .
Tampons can also leak toxic chemicals and on removal leave fibres behind in the vagina. They also dry out the lubricating and self-cleaning fluids that the vagina naturally produces, and cause micro tears in the vaginal canal, making it vulnerable to bacterial infection.
The vagina is without doubt the most absorbent and sensitive part of a women's body, so for good menstrual health don't use tampons - even organic ones.
What is the impact of Drion Sanitary Products on the environment?
Hygienically wrapped and sealed in organic paper, Drion organic sanitary products pose no toxic threat to women or the environment, and unlike most competitors' products, they are recyclable and compostable under the correct conditions.
Drion sanitary products are free from the myriad of chemicals and potential allergens used by most other brands. These nasties include artificial dyes, chlorine, dioxins, GMO's, rayon, viscose, carbon disulphide, sulphuric acid, phthalates, pesticides and herbicides, odour neutralizers and synthetic adhesives.
Drion sanitary products contain organic pine resin polymers and an organic food grade natural starch adhesive which are both 100% biodegradable.