Efamol Efalex Brain Formula Liquid 500ml
A specially formulated blend of omega-3 and omega-6 long chain fatty acids nutritionally to support optimal brain, eye and nerve development and function.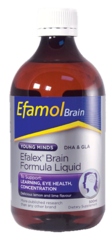 Specials are for online purchases only, don't miss out! -
Email
us to check for availability.
The importance of adequate supplies of long chain polyunsaturated fatty acids (LCPs) in early life for brain and visual development is well established. These nutrients remain important throughout life, especially during growth phases. It appears a common biological link exists for conditions such as dyslexia, dyspraxia and AD(H)D which is related to an inborn error of metabolism affecting the conversion of essential fatty acids into LCPs. This leads to a deficiency of LCPs, which are required for incorporation into membranes, particularly those of the brain, nerve and eye tissues. Scientific trials using Efalex®, a patented combination of DHA rich tuna oil, Efamol® evening primrose oil, vitamin E and thyme oil (two well-established antioxidants), have shown great benefit for supporting mental clarity, focus, concentration and coordination. Lemon lime flavoured liquid form.
Usage:
For adults and children over 2 years to support mental clarity, focus, concentration and coordination.
Dosage:
Two 5ml teaspoons morning and evening with food for twelve weeks, then reduce by half.
Ingredients per 5ml:
High DHA Fish oil
640mg
DHA (docosahexaenoic acid)
140mg
EPA (eicosapentaenoic acid)
32mg
AA (Arachidonic acid)
11mg
Rigel evening primrose oil
213mg
GLA (gamma linolenic acid)
24mg
Vitamin E
15mg
Thyme oil
400µg
Natural lemon and lime oil flavour

Due to the thyme oil content this product is not recommended during pregnancy or for children under 2 years of age. Always ask your product supplier or health professional if there are any specific precautions regarding your use of this or any supplement.