Efamol Efamarine 75 Soft Gels
Efamarine is a rich natural source of Omega 3 & 6 Essential Fatty Acids and is specially formulated to assist in the temporary relief of joint stiffness and to maintain cardiovascular health. High Potency Mercury Tested GM Free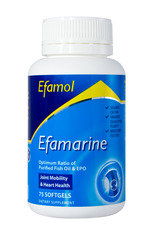 Specials are for online purchases only, don't miss out! -
Email
us to check for availability.
Efamarine is a rich natural source of Omega 3 & 6 Essential Fatty Acids and is specially formulated to assist in the temporary relief of joint stiffness and to maintain cardiovascular health. Efamarine has been formulated to provide the important Omega-3 and Omega-6 fatty acids in the optimum ratio. Prostaglandins are chemical messengers that play a role in the body's action against inflammation. As levels of prostaglandin E1 drop, levels of the pro-inflammatory E2 rise. Efamarine's high levels of GLAmean the body may create more E1, reducing inflammation. The unique balance of fatty acids in Efamarine also help to inhibit the production of cholesterol. Efamarine is a convenient nutritional supplement that can be a useful addition to a healthy balanced diet, helping to safeguard the intake of these important nutrients. Efamarine is specially formulated to help in three ways: To supply Marine Fish oils, which are rich in Omega-3 fatty acids EPAand DHA. These "good fats" play an important role in maintaining heart health, good circulation and joint mobility, especially as we get older. To supply GLA, which helps in the production of prostaglandin, chemical messengers that help to regulate many of the body's processes including the manufacture of anti-inflammatory chemicals for joint health. To supply vitamin E, which has important antioxidant properties and may also help maintain cardiovascular health.
Adults: When using for the first time: Four softgels daily with food for an initial 12 weeks Maintenance dose: Take one or two daily, with food Children (6-12): As directed by your physician
Each softgel contains: Evening Primrose Oil (EPO) 720mg (GLA 80mg) Fish Oil 268mg (EPA 40mg, DHA 28mg) Vitamin E (dl-alpha tocopheryl acetate) 10mg Capsule: glycerol and gelatine Low allergy formula: Free of cod liver oil, corn, egg, gluten, milk derivatives, nuts, salt, soy, sugar, wheat, yeast, preservatives, flavouring or colours.
Use only as directed and consult your doctor if symptoms persist. Efamarine advisory service: 0508 600 400