Efamol Mother & Baby 120 Soft Gels
Efamol Mother & Baby is a brand new, clinically researched essential fatty acid product providing an unprecedented 375mg of DHA per softgel. Mother & Baby provides all the well documented benefits of high DHA fish oil for supporting neurological and immune development. Essential DHA for a healthy pregnancy Supports baby's neurological and immune development Ideally used before, during & after pregnancy Clinically researched - refer to DOMInO trial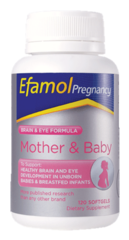 Specials are for online purchases only, don't miss out! -
Email
us to check for availability.
Efamol Mother & Baby is a brand new, clinically researched essential fatty acid product providing an unprecedented 375mg of DHA per softgel. Recommended to be taken before, during and after pregnancy, Mother & Baby provides all the well documented benefits of high DHA fish oil for supporting neurological and immune development. In addition the largest scientific study of its kind (the DOMINO trial), performed in Australia, has shown that supplementing with Efamol Mother & Baby supports the fulfilment of a healthy full-term pregnancy and a healthy birth weight compared to placebo. Having a baby at full term is of critical importance as pre-term delivery predisposes the child to a whole raft of developmental, physical and behavioural problems. The same trial also showed that supplementing with Efamol Mother & Baby supports healthy neurological development and function in offspring, with infants born to mothers in the active group of the trail being less likely to be classified as a slow developer. For more info on the amazing results of the Domino trial follow this link: Domino Trial Mums can also breathe a sigh of relief as Mother & Baby is shown to support a healthy mood and outlook in mums during the post-natal period, compared to the rest of the population, despite all those sleepless nights. Sleepless nights can be made worse by babies with itchy scratchy skin troubles. Fortunately the most recent studies on Efamol Mother & Baby showed that supplementation during pregnancy supports a competent, happy immune system and promotes healthy, clear skin. That's great news for families with a propensity towards skin troubles.
Take 1-2 softgels daily with food. When taking this product for the first time take 2 softgels daily, with food for an initial 12 weeks.
Each Softgel Provides: High DHA marine fish oil concentrate 750mg Total Omega 3 nutrients 500mg providing: Docosahexaenoic acid (DHA) 375mg Eicosapentaenoic acid (EPA) 50mg Arachidonic acid (AA) 15mg Also contains: Gelatin, glycerine capsule, vitamin e. Contains no: Cod liver oil, corn, egg, gluten, milk derivatives, nuts, peanuts, salt, shellfish, sugar, wheat, yeast, preservatives, flavouring or colours. 100% GMO free.