ELEVIT IODINE MULTI TABS 100
Elevit with Iodine Tablets
Elevit with Iodine is a vitamin and mineral supplement that has been designed specifically for couples making babies and for women who are pregnant or breastfeeding. Elevit with Iodine contains the multivitamins and minerals mums and mums to-be need to meet their increased recommended daily intake.
If you're trying to conceive, try Menevit for your partner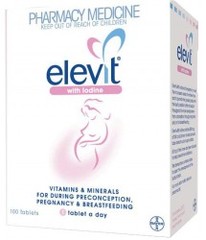 Specials are for online purchases only, don't miss out! -
Call
or
email
us to check for availability.
IN STOCK NOW
Benefits:

The benefits of Elevit with Iodine are extensive. Elevit includes a high level of folic acid and is different from other pregnancy supplements because it's the only supplement clinically proven to reduce the risk of neural tube defects like spina bifida by 92%.

Before Pregnancy

Medical professionals suggest you take supplements like Elevit, for at least a month before you first start planning to make a baby and then throughout the pregnancy. Elevit with Iodine contains the multivitamins and minerals needed to increase your chances of making a baby and to get your body baby-fit.

During Pregnancy

To give your mini-me the very best start in life, take Elevit with Iodine when you get pregnant. The unique formulation of Elevit with Iodine contains 800mcg of folic acid, plus ten other vitamins and eight trace elements including iron and iodine. The high iron content can help prevent dietary iron deficiency (all too common when you're pregnant).

After Pregnancy

After a baby is born, continue to take Elevit with Iodine. It will help replace any nutrients lost in childbirth and will help fight fatigue and baby brain, (intellectual impairment). If you are breastfeeding, you could be making between 700-900mL of milk a day.3 Chances are that you might be struggling to meet the increased recommended daily intake of vitamins you need. (Your recommended daily intake of nutrients increases by up to 188% when you're breastfeeding.4)

Clinically Tested

Elevit with Iodine is the only supplement clinically proven to reduce the risk of neural tube defects like spina bifida by 92%.2
Elevit with Iodine assists in meeting essential iodine needs:
Iodine deficiency is the most common preventable cause of intellectual impairment or 'baby brain'.
50% of children and pregnant or breastfeeding women living in Australia have been shown to be iodine deficient or at risk of developing thyroid disease.
Iodine supplementation from the first trimester improves children's psychomotor development.
Take one tablet daily, or as directed by your healthcare professional. Take Elevit with Iodine if possible for at least one month before pregnancy, throughout pregnancy and the breast-feeding period. Please read the enclosed leaflet.
1 Elevit with Iodine Tablet contains
11 Vitamins
Folic acid 800 mcg
Thiamine nitrate (Vitamin B1) 1.55 mg
Riboflavine (Vitamin B2) 1.8 mg
Nicotinamide (Vitamin B3) 19 mg
Calcium pantothenate (Vitamin B5) 10 mg
Pyridoxine hydrochloride (Vitamin B6) 2.6 mg
Cyanocobalamin (Vitamin B12) 4.0 mcg
Ascorbic acid (as calcium ascorbate 100 mg
dihydrate) (Vitamin C)
Cholecalciferol (Vitamin D3) 500 IU 12.5 mcg
dl-?-Tocopheryl acetate (Vitamin E) 15 mg
Biotin (Vitamin H) 200 mcg
8 Minerals and trace elements
Iron (as ferrous fumarate) 60 mg
Iodine (as potassium iodide) 250 mcg
Calcium (as calcium hydrogen phosphate 125 mg
anhydrous, calcium pantothenate
and calcium ascorbate dihydrate)
Magnesium (as light magnesium oxide, 100 mg
magnesium phosphate-dibasic trihydrate
and magnesium stearate)
Phosphorus (as calcium hydrogen phosphate 125 mg
anhydrous and magnesium phosphate- dibasic trihydrate)
Copper (as cupric sulfate anhydrous) 1 mg
Manganese (as manganese sulfate monohydrate) 1 mg
Zinc (as zinc sulfate monohydrate) 7.5 mg
Contains lactose and sucrose. Also contains gelatin of porcine (pig) or bovine(cattle origin. Gluten free.
Do not take ELEVIT with IODINE if:

1. you have had an allergic reaction to ELEVIT with IODINE or any ingredients listed at the end of this leaflet. Symptoms of an allergic reaction include swelling, itching, rash or breathing difficulties.
2. you have kidney disease
3. you have excessive amounts of vitamin D, calcium or iron in your blood
4. your body cannot process copper or large amounts of iron
5. the package is torn or shows signs of tampering
6. the expiry date printed on the pack has passed. If you take this medicine after the expiry date has passed, it may not work as well.

If you are not sure if you should be taking ELEVIT with IODINE, talk to your pharmacist, midwife or doctor.
Do not give ELEVIT with IODINE to children. ELEVIT with IODINE is only for women who are trying to become pregnant, and those who are pregnant or breastfeeding.

Store below 25°C. Protect from heat and moisture.