EQUAZEN EYE Q BABY CAPSULES 250mg 30
Eye Q BABY Capsules - Naturally sourced Omega 3 & Omega 6
6 Months to 2 Years.

Just break the tip of the Capsule and squeeze into any formula, food or Drink.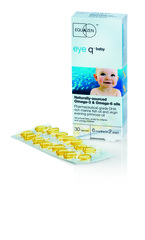 Specials are for online purchases only, don't miss out! -
Email
us to check for availability.
Provided by Nature, blended by experts.
Equazen Eye Q is an easy and convenient way to get a balanced intake of Omega 3 and Omega 6

Only high quality natural ingredients are used to product Equazen Eye Q. Their oil comes from sustainable sources of oily fish, such as sardines, renowned for their naturally higher level of EPA.

Following a special purification process, independent testing then ensures their oils comply with stringent WHO and EC Purity rules.

The Essential Facts:
Essential fatty acids such as Omega 3 and Omega 6 are vital for good health. They play a key role in almost every part of your body.

Your body cannot produce Omega 3, so it must come from the diet, with oily fish being a great source.

A Unique Formulation:
Equazen Eye Q is a scientifically developed unique formulation of high EPA Omega 3 and Omega 6. Its specific combination of Omega 3 EPA and DHA together with Omega 6 GLA ensures a synergistic and balanced formulation.
Dosage:
One Capsule per day with Food
Twist off the capsule tip and squeeze the contents into food, formula or Drink.

CAPSULES ARE NOT TO BE SWALLOWED OR FED TO CHILDREN
Active Ingredients:
Each One Twist off Capsule provides:

Omega 3 Fish Oil 200mg of which:
EPA 100mg
DHA 14mg

Omega 6 (Evening Primrose Oil) 50mg
of which: Gamma-linolenic acid (GLA) 5mg

Vitamin E (d-alpha tocopherol) 1.4mg



NO Aspartame
NO Saccharine
NO Artifical Flavours
NO Artifical Colours

Consult your childs doctor or pharmacist if you child is on any medication, or if your child has any medical condition before starting supplementation.


Do not exceed the recommended daily intake

Keep in a cool dry place
Food supplements should not be used as a substitute for a well-balanced or varied diet or healthy lifestyle.