Erecto Max 30 tabs Carusos Natural Health
If you're having
PROBLEMS IN THE BEDROOM...
Here's some really GOOD NEWS!
A powerful testosterone balancing formula specially developed to boost your sexual performance is now available!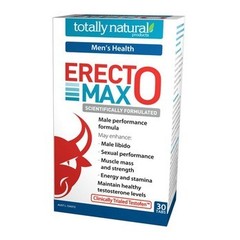 Specials are for online purchases only, don't miss out! -
Email
us to check for availability.
ERECTOMAX
Brings out the wild bull in you!
Clinically proven to maintain healthy testosterone levels

What is testosterone?
Men's bodies produce the hormone testosterone in their testes and it is the main sex hormone in their body. Testosterone is essential for producing your sexual characteristics. It increases your sex drive and sexual performance and helps build muscle and bone strength.

Do you suffer from the following symptoms?

Poor sexual performance
Lack of sexual desire
Loss of stamina and libido
Longer recovery time from physical activity
Fatigue and lethargy
Loss of muscle mass
Reduced muscle strength
Mood changes

If you suffer from any of these symptoms ErectOmax maybe just what you need!

Your testosterone levels decrease as you get older...
When you are in your late teens, your testosterone production is at its peak. But as you grow older, your testosterone levels decrease. Aging in men involves a series of hormonal and biochemical changes which may down regulate the ability to initiate the body's testosterone production. Depleted levels of testosterone may lead to loss of libido and reduced sexual arousal and sensation.

If testosterone levels are balanced however, men may have their feelings of vitality and sex drive increased. So if you can relate to any of the above symptoms you may have an imbalance of testosterone levels. By having healthy levels of testosterone you may be able to restore the sexual vitality of your youth. So don't let ageing keep you down. By having good healthy levels of testosterone you may start feeling young again!

Symptoms of testosterone imbalance
Common symptoms of a testosterone imbalance include fatigue and low energy levels. Low testosterone is also a sign of not being able to lose body fat. Poor libido, reduced sexual arousal or performance, poor concentration, irritability and mood swings are also indicative of a testosterone imbalance.

Testosterone increases your sexual performance
If you really want to perform in the bedroom, having healthy useable testosterone in your body is very important. There is no other substance in the world that plays a more important role in enhancing your ability to have sex than testosterone. ErectOmax is a scientifically developed formula made up of a special combination of high potency herbs and nutrients. ErectOmax contains Testofen which is standardised for 50% fenusides which means each tablet is jam packed full of the active components needed to maintain your testosterone levels. The outstanding ErectOmax formula also contains Zinc, Magnesium and Vitamin B6 which all maintain healthy free testosterone levels and total testosterone levels in your body.

Improve your libido and sperm quality
Zinc is vital for a man's sexual health. A Zinc deficiency may cause low levels of testosterone in your body. Low Zinc levels may also interfere with your sexual function and be responsible for a loss of libido.

Not only does a Zinc deficiency decrease your testosterone levels but it decreases your seminal volume and sperm motility as well. So by taking Zinc you may maintain healthy free testosterone, healthy semen levels and improve your sexual satisfaction as well.

Zinc is also good for your general well-being. Zinc may be beneficial for wound healing and may assist with your normal immune function. Zinc is an essential antioxidant enzyme which may protect your cells from damage and breakdown.

For strong, rock hard muscles
Apart from your sex life ErectOmax may help you develop strong, rock hard muscles. If you pay your dues in the gym, and this is important, having good levels of testosterone will promote muscle growth and strength. With every workout your muscles will look and feel fuller, they'll be bigger and harder. You'll have more power, energy, stamina and strength.

Natural aphrodisiac increases your sexual desire
Finally, ErectOmax also contains Potency wood, which is a potent natural aphrodisiac. Potency wood may enhance your sexual performance and desire whilst stimulating sexual function.

Free up your testosterone:
ErectOmax also contains therapeutic levels of Urtica dioica and Avena sativa which may block Sex Hormone Binding Globulin (SHBG) from attaching to testosterone. If SHBG attaches to testosterone it virtually stops the biological activity of the hormone making it unusable.
What you do want is to 'unattach' and free the testosterone. Did you know SHBG levels increase with age? So the older you get the more SHBG there is to attach to the testosterone in your body.

When combined with the lower production of testosterone also associated with age, increased SHBG means that you may not have enough testosterone to have the wild, passionate sex you dream about. Avena sativa may increase your stamina and energy whilst increasing your capacity to perform. Also, Avena sativa contain Avenacosides.

These Avenacosides appear to stimulate the release of Luteinising Hormone, which travels to the testicles and may assist in stimulating healthy testosterone production. Similarly, Testofen appears to stimulate the release of Luteinising Hormone as well.
Active ingredients. Each tablet contains:
Trigonella foenum graecum (Testofen) seed 9,900mg
Urtica dioica (Stinging Nettle) leaf 1000mg
Dulacia inopiflora (Potency wood) root 1000mg
Avena sativa (Oats) herb 1000mg
Magnesium Aspartate Dihydrate 225mg
Equiv. to Magnesium elemental 15.2mg
Zinc amino acid chelate 75mg
Equiv. to Zinc elemental 15mg
Pyridoxine Hydrochloride (Vitamin B6) 6mg
Caution: Take at least one hour away from other medications