Ethical Nutrients Chromex Chromium & ALA Comp 60 Capsules (previously Chromium Sugar Balance)
Combination of herbs and nutrients for healthy blood sugar balance, helping metabolise carbohydrate, fat and protein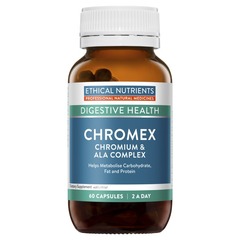 Specials are for online purchases only, don't miss out! -
Email
us to check for availability.
Ethical Nutrirents Chromex Chromium & ALA Complex features a combination of herbs and nutrients for healthy blood sugar balance.
- Chromium supports the body in metabolising carbohydrate, fat and protein.
- A diet high in refined carbohydrates may require more chromium.
- Chromium plays an important role in the transport of glucose into cells.
- Chromium and lipoic acid are required for normal carbohydrate metabolism. Naturally derived vegetable capsule (VegeCaps).
VegeCaps may be preferred by people wishing to avoid gelatin for health or religious reasons.
Adults: Take 1 capsule twice daily with food or as directed by a healthcare professional.
Each capsule (VegeCap) contains:
Extracts equivalent to:
Gymnema Sylvestre Leaf Dry (Gymnema): 2g.
Cinnamomum Cassia Stem Bark Dry (Cinnamon): 1.5g.
Alpha Lipoic Acid: 75mg.Chromic Chloride: 641µg.
Equiv. Elemental Chromium: 125µg.µg = microgram.
Always read the label. Use only as directed. If symptoms persist consult your healthcare professional.