Ethical Nutrients Re-Hydrate (Lemon Lime) 10 Sachets
Clinically Trialled Formula to Replace Electrolytes Lost Due to Diarrhoea, Vomiting and Heavy Sweating.

Lemon Lime Flavour.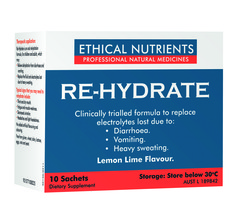 Specials are for online purchases only, don't miss out! -
Email
us to check for availability.
Therapeutic applications:

Re-Hydrate is an oral rehydration formula, for children and adults, which may:

Relieve dehydration from diarrhoea and vomiting.
Replace the fluid and electrolytes lost due to heavy sweating.
Electrolytes and glucose per litre of prepared solution:

Sodium: 75 mmol
Potassium: 20 mmol
Chloride: 65 mmol
Citrate: 10 mmol
Glucose: 75 mmol
Osmolarity: 236.16 mOsmol/L (hypo- osmolar)
Typical signs that you may need to rehydrate include:

Thirst and dry mouth.
Fatigue and muscle weakness.
Decreased urination.
Headaches and light headedness.
Directions for use:

Adults and children: For the management of dehydration: Add the contents of one sachet to precisely 200 mL of fresh, cold drinking water, once mixed consume:

3 months to 3 years - 100 mL every 90 minutes
3 - 6 years - 100 mL every hour
7 - 12 years - 200 mL every hour
12 years above and adults - 200 mL every half hour
Take until symptoms resolve or as directed by a healthcare professional. If symptoms persist consult your healthcare professional.

Contains glucose and 157 mg of potassium.

If you have kidney disease or are taking heart or blood pressure medicines, consult your doctor or pharmacist before use.

Keep out of reach of children. If diarrhoea persists for more than 6 hours in infants under 6 months, 12 hours in children under 3 years, 24 hours in children aged 3-6 years or 48 hours in adults and children over 6 years, seek medical advice.

Once mixed, any unused drink should be discarded after 24 hours. Use only as directed.

Do not use if there is tamper-evident sachets or outer carton seals are missing or broken.

No added artificial flavouring and colouring. Free from gluten, wheat, dairy, lactose, eggs, nuts and yeast.

Store below 30°C.
Each sachet contains:

Glucose anhydrous
2.7 g
Sodium citrate
580 mg
Equivalent elemental sodium
155 mg
Sodium chloride
520 mg
Equiv. elemental sodium
205 mg
Equiv. elemental chloride
315 mg
Potassium chloride
300 mg
Equiv. elemental potassium
157 mg

Always read the label. Use only as directed. If symptoms persist consult your healthcare professional.