Hiprex 20 tablets
Antibacterial. Suppression or elimination of urinary tract bacteria. Effective relief from Urinary tract Infections.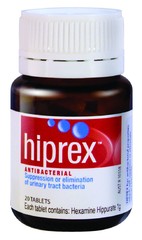 Specials are for online purchases only, don't miss out! -
Email
us to check for availability.
What is Urinary Tract Infections?
Urinary Tract Infection refers to infection anywhere within the urinary system. A Urinary Tract Infection can range from an infection of the bladder to an infection of the kidney. Bladder infection, also called cystitis, is the most common type of Urinary Tract Infection. In cytitis, the bladder lining becomes raw and inflamed.

What causes a Urinary Tract Infection?
A Urinary Tract Infection is most commonly caused by bacteria.

What are the symptoms of a Urinary Tract Infection?
Common symptoms include:
* Burning or painful feeling when urinating
* Feeling an urge to urinate urgently but being unable to or only passing a few drops

Who is at risk of Urinary Tract Infection?
Urinary Tract Infection affects women, men, and children.
* Women have a 1 in 3 chance of a Urinary Tract Infection in their lifetime.
* Nearly 1 in 3 women have a Urinary Tract Infection needing treatment before the age of 24 years
* Men have a 1 in 20 chance of a Urinary Tract Infection in their lifetime.
* Both men and women are more likely to get a Urinary Tract Infection with increasing age.

How Hiprex can help?
Hiprex contains an antibacterial agent to help suppress or eliminate bacteria in the urine that causes Urinary Tract Infection. Hiprex works best in an acidic environment and should not be used in conjunction with urinary alkalinizers as the effectiveness of Hiprex may be impaired.

How will I know if Hiprex is suitable for me?
Urinary Tract Infection can show itself in different ways. Speak to your healthcare professional to see if Hiprex is suitable.

Hiprex is:
* An effective anti-bacterial agen which provides relief from Urinary Tract Infections.
* Suitable for adults and children 6 years and over
* Suitable for use during pregnancy
* Sugar free
* Gluten free
* Lactose free
* Sodium free

While taking Hiprex
* ensure that you drink plenty of water
* ensure full emptying of the bladder

Consult your doctor or healthcare professional if you continue to experience Urinary Tract Infection symptoms
Adults: 1 g twice daily. Children: 6 12 years: 500 mg to 1 g twice daily.
Hiprex contains Hexamine hippurate 1g per tablet.
INDICATIONS: Suppression or elimination of bacteriuria associated with chronic or recurrent infection of the urinary tract, especially when long term therapy is indicated. CONTRAINDICATIONS: Patients with renal insufficiency, metabolic acidosis, severe hepatic insufficiency or severe dehydration.It is also contraindicated as the sole therapeutic agent in acute parenchymal infections causing systemic symptoms.USE IN PREGNANCY Category A. ADVERSE REACTIONS: Minor adverse reactions have been reported in fewer than 3.5% of patients treated. These reactions include nausea, upset stomach, dysuria, rash and stomatitis. INTERACTIONS: Should not be administered with sulphonamides as crystalluria may occur or with any alkalinising agent.