Humble Brush for children
Biodegradable bamboo toothbrush for children (14.5cm)
Price is for a single toothbrush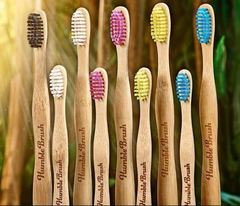 Specials are for online purchases only, don't miss out! -
Call
or
email
us to check for availability.
Use eco-friendly Humble Brush to fight against plastics.
Humble brushes are made of bio-degradable bamboo and Nylon-6 (BPA free).
Colours can be selected in an email otherwise colours will be shipped at random.
Toothbrushes are also available for adults.
How to care and dispose your Humble Brush
KEEP YOUR BRUSH DRY
Bamboo is a material that will keep best when stored dry, which is why enclosed toothbrush cups that may collect water are not recommended. We recommend that you keep your toothbrush in a open-air toothbrush holder or other dry area.
CLEANING THE BRISTLES
Rinse and care for our bristles just as you would with a conventional toothbrush.
YOUR HANDLE
Bamboo is a natural material that will change appearance over time. The top portion of the bamboo which goes into your mouth may appear lighter and faded over time, which is normal and will not affect your brushing experience. Please reuse or compost the handle!
REUSE OR COMPOST THE HANDLE
The toothbrush handle will safely return to the soil within 6 months in a commercial or private composting bin. The handle can also be reused in your garden or in any other creative way.
DISPOSAL OF HUMBLE BRUSH
The bristles and handle should be disassembled for proper disposal. The bristles can easily be recycled as plastics or be landfilled after being easily removed from the head with pliers. Doing so will remove a small metal staple that is used to clamp the bristles to the handle. The natural bamboo handle can either be reused or disposed of in a composting bin.
Compostable & Biodegradable Bamboo Handle
Rounded Nylon bristles (SOFT) for superior cleaning
The Humble 3 P's
Prevention - the dental team is driven by a preventive philosophy that recognizes that no restorative treatment is as good as the pre-diseased condition, and prescribes preventive interventions as the highest level of patient care.
People – staff members are involved in oral health outreach projects for the benefit of people living in places where there is no dentistry available.
Planet – the dental office recommends biodegradeable toothbrushes as an alternative to the regular hard plastic manual ones.
https://thehumble.co