Imedeen Prime Renewal 120 tablets
IMEDEEN Prime Renewal is specifically formulated for women after menopause.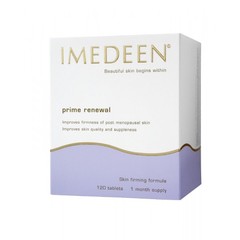 Specials are for online purchases only, don't miss out! -
Email
us to check for availability.
IMEDEEN Prime Renewal is specifically formulated for women after menopause. It addresses the specific skincare needs post menopause with innovative natural-based ingredients, including the exclusive Biomarine Complex™, and zinc combined with ViTea™ Protection Complex - a blend of powerful antioxidants including white tea, tomato and grape seed extract, vitamin C and E.
The ingredients have been specifically selected for their beneficial effects on skin including moisture enhancement and skin building properties, anti-oxidant defence and soothing, calming agents.
IMEDEEN works in the deeper layers of the skin where topical creams and lotions can not reach. It provides your skin with vital skin-boosting nutrients to improve the skin's overall quality, structure and appearance.
When taking two IMEDEEN Prime Renewal tablets twice daily - morning and evening - this combination works to maintain and revitalise the collagen and elastin content of the skin and can also help reduce hyper-pigmentation and age spots. The result is improved skin density, firmness and suppleness within 12 to 24 weeks.
For scientific documentation, click link
Four tablets per day (2x Morning Tablets in the Morning)(2x Evening Tablets at Night).
- Target age: 50 years plus.
Active ingredients per tablet:
Fish extract (Biomarine Complex) 78.75mg
White tea extract (Camellia sinensis L.) 15.6mg
Camomile extract (Matricaria recutita L.) *** 14.5mg
Tomata extract (Lycopersicon esculentum mill.) 7.19mg
Grape seed extract (Vitis vinifera L) 6.88mg
Vitamin C (l-ascorbic acid as sodium ascorbate) 15mg
Vitamin E (alpha-TE as RRR-alpha tocopheryl acetate) 2.5mg
Zinc (as zinc gluconate) 1.25mg

Other ingredients: Maltodextrin, soy fibre, modified starch***, glazing agents (methyl cellulose, shellac, talc), humectant (glycerol), vegetable oil, colours (titanium dioxide, ammonia caramel).
All ingredients have been tested for safety and efficacy.
***Chamomile extract and modified starch are only included in the evening tablets.
People with a known allergy to seafood or soy should not take Imedeen Prime Renewal.
Imedeen Prime Renewal contains chamomile extract and may cuase an allergic reaction in individuals sensitive to the Asteraceae/Composiae plant family (e.g. ragweed and chrysanthemums).
Pregnant and lactating woman should not take any supplements unless recommended by their doctor or health professional.
As market leaders in the field of skincare from within, IMEDEEN is committed to ensuring that the brand is recognised as a benchmark for excellence – not only by consumers, but also by scientists, dermatologists, cosmetologists and aestheticians worldwide.
In-vivo testing is carried out on volunteers under controlled conditions for scientists to assess the efficacy of the product. In-vitro studies involve isolating and culturing skin cells and tissues for researchers to see how they will react to certain ingredients.
There are over 15 independently published and reviewed studies confirming IMEDEEN´s skin perfecting effects and research is ongoing. All the active ingredients are based on nature and have been scientifically documented to be safe and effective. Our research study highlights are organized for you by product.