IsoWhey Clinical Nutrition Advanced 55+ Vanilla 400g
The IsoWhey Advanced 55+ range has been specifically developed to provide nutritional support for healthy ageing with calcium & vitamin D to help reduce the risk of osteoporosis.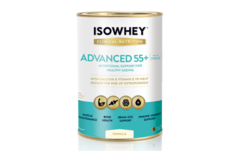 Specials are for online purchases only, don't miss out! -
Call
or
email
us to check for availability.
IsoWhey Advanced 55+ delivers a nutritional snack to maximise daily nutrition to support healthy ageing, used in conjunction with a balanced diet. It contains a range of beneficial ingredients to support an active lifestyle.
† A diet high in calcium + vitamin D reduces the risk of osteoporosis.
Nutritional snack containing 23 vitamins and minerals.
High in premium whey protein, containing 19.4g per serve, for muscle maintenance.
High in fibre with 6g per serve.
Provides 1.26Cal per mL.
Contains digestive enzymes for healthy digestion.
Good source of calcium, magnesium and vitamin D plus mineral cofactors to support bone integrity.
Contains antioxidant vitamins A, C and E.
Provides nutrients needed for normal immune function.
Convenient and effective way to increase protein, energy and nutrition intake.
In a container that is easily handled and opened.
Gluten free and less than 1g of lactose per serve.
No artificial colours, flavours or sweeteners.
Does not contain vitamin K, which interferes with anticoagulant therapy, e.g. warfarin.
Available in vanilla and chocolate flavours.
MUSCULOSKELETAL SYSTEM
Undernutrition, also known as protein energy undernutrition, is common among older Australians, with an estimated 10-44% at risk. Weight loss in older adults is associated with loss of muscle mass with a risk of adverse outcomes.
Protein requirements for older people are actually approximately 25% higher than for younger adults. The recommended dietary intake for people aged ≥70 years is approximately 1g protein per kg body weight.
Whey protein is rich in the branched chain amino acids (BCAAs) – L-leucine, L-isoleucine and L-valine – which are essential for supporting healthy muscles.
Ageing is typically associated with a loss of bone and declined total body calcium and vitamin D. Calcium, together with vitamin D, prevents negative calcium balance and reduces the rate of bone loss. A diet rich in calcium and vitamin D reduces the risk of osteoporosis.
Clinical trials with daily supplements of these nutrients demonstrate a significant reduction in the rate of age-related bone loss and the incidence of fractures, especially of the hip. In addition to calcium, other minerals including copper, magnesium, manganese and zinc appear to contribute to maintenance of bone density with age.
IMMUNE SYSTEM
While ageing on its own may contribute to dysregulation of the immune system, undernutrition seems to be one of the main factors leading to poor immune responses. Protein-energy undernutrition is associated with decreased lymphocyte proliferation, reduced cytokine release and lower antibody response.
Micronutrient deficiencies reported in older people, such as zinc, selenium, iron, copper, vitamins A, C, E and B6 and folate, have important influences on immune functions.
DIGESTIVE SYSTEM
IsoWhey Advanced contains Litesse® - a soluble non-viscous fibre that is well tolerated, less likely to cause the rapid gas production and subsequent gastric discomfort associated with the consumption of certain fibres, and, as a fibre, contributes to a balanced gastrointestinal tract.
BRAIN & EYE HEALTH
Iodine and iron contribute to normal cognitive function. Vitamin A and riboflavin contribute to the maintenance of normal vision.
Adults: Mix 4 heaped tablespoons with 200mL of milk or milk substitute and stir thoroughly to combine.
INGREDIENTS: Whey protein concentrate, Litesse® (polydextrose), maltodextrin, vanilla & cream flavour, lecithin powder, xanthan gum, whey protein isolate, calcium carbonate, medium chain triglycerides, magnesium oxide (heavy), potassium citrate, glutamine, lutein, enzyme mix, ascorbic acid (vitamin C), ferrous fumerate (iron), Lactobacillus acidophilus, Stevia rubudina powder, chromium picolinate, zinc oxide, d-alpha tocopherol succinate (vitamin E), nicotinamide (vitamin B3), potassium iodide (iodine), manganese sulfate monohydrate, vitamin A, biotin, cupric sulfate pentahydrate (copper), Bifidobacterium lactis, colecalciferol (vitamin D3), folic acid, selenomethionine (selenium), riboflavin (vitamin B2), pyridoxine hydrochloride (vitamin B6), calcium d-pantothenate (vitamin B5), thiamine hydrochloride (vitamin B1), cyanocobalamin (vitamin B12).
*Based on average amounts.
**Naturally occurring amino acid from whey protein concentrate.
At IsoWhey, promoting healthy choices is our first and foremost passion.
IsoWhey is developed for health-conscious people who are looking to manage their weight with confidence and to lead a healthier lifestyle. Our products are dedicated to the health and wellbeing of all our customers, and are formulated to be a nutritious and healthy option when nutrition could be improved during various health and age stages. More than simply a weight management product, IsoWhey is a long-term lifestyle complement to healthy eating and exercise. IsoWhey may also be the product for you if you are breastfeeding or recovering from illness.
The IsoWhey range includes our original whey protein powder and other premium products to support your weight management efforts.
IsoWhey Clinical Nutrition is a new range of products scientifically formulated by qualified healthcare practitioners which are tailored to the nutritional needs of different life stages or conditions.
IsoWhey is an Australian-owned premium health and wellbeing brand which is sold in more than 3,000 pharmacies and health food stores across the country. Providing a scientifically formulated range with high quality, un-denatured protein, IsoWhey offers innovative products with added nutrients.