Jack N Jill Biodegradable Toothbrush Hippo
Available in two kid-friendly designs – hippo and bunny – with soft bristles.
Price is for a single toothbrush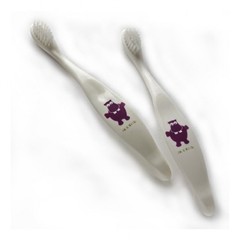 Specials are for online purchases only, don't miss out! -
Email
us to check for availability.
Ever wonder how many toothbrushes we go through in a lifetime, and how long they sit in the landfill? Finally there's an eco-friendly option that kids will love, with rounded nylon bristles for superior cleaning, and ergonomic handle made from 100% corn starch that can be added to your compost.
How to use Disposal Instructions:
Break off toothbrush head.
Discard thoughtfully. Check with local recycling programs if suitable (Nylon is recyclable).
Place the rest of the toothbrush into your compost. (Typically takes 90 days to break down in a commercial compost.)
Compostable & Biodegradable Handle
Rounded Nylon bristles (SOFT) for superior cleaning
Ergonomic handle made from 100% Corn Starch NON GMO