John Plunkett's Sunspot Cream 100g
Aids in the removal of sunspots and keratoses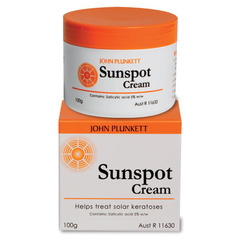 Specials are for online purchases only, don't miss out! -
Email
us to check for availability.
* Painless and non-invasive
* Alternative to liquid nitrogen removal
* No burning or stinging sensation
* Non-greasy formulation
* May be applied under make-up
WHAT ARE SUNSPOTS (Solar Keratosis)
Sunspots are the rough, scaly, raised blemishes on the skin, also known as solar keratoses (white, rough or scaly cells and are often the beginnings (if left untreated), of skin cancer).
Sunspots are raised and red or white, unlike age spots, which are flat and brown.
Due to the Australia's lifestyle and climate, years of unprotected sun exposure are now catching up with the Baby Boomers, in the form of Solar Keratoses, or Sunspots.
About 50% of the Australian Caucasian population over 40 years of age has at least one Sunspot.
Sunspots usually occur on the face, hands and other exposed skin such as scalp, ears and other parts of the body.
Effective treatment of Sunspots can help avoid them developing into malignant skin cancers.
HOW DOES SUNSPOT CREAM WORK?
Sunspot Cream is an exclusive formula that works gradually to remove the sun damaged layers of skin.
These layers are then replaced by healthy new skin.
Its ingredients assist in nourishing and restoring skin to a clear condition.
SPECIAL FEATURES:
Exclusive formulation treats Solar Keratosis
5% Salycilic Acid: Gradualy removes sun damaged layers of skin and encourages renewal and revitalisation of skin cells
5% Urea: Moisturises skin
Aust R (TGA registered)
Rub a small amount of the cream into affected areas three times per day; morning, evening and before bed.
Allow at least an hour before washing or wetting treated areas.
The cream acts gradually and results should begin to appear after 4 weeks.
Continue treatment until the condition has cleared. Thereafter continue to use as necessary to maintain results.
ACTIVE INGREDIENTS:
SALICYLIC ACID: Encourages the removal of old skin cells and encourages renewal and revitalisation of skin cells.
If the condition being treated has not improved after using Sunspot Cream as directed for six weeks, then medical advice should be obtained.
Do not apply cream to melanomas or moles.
Avoid contact with eyes and sensitive areas.
Do not use on infants.
For external use only.