Lady-Comp Natural Conception Device
NEW GENERATION DEVICE
Fertility Management at its best! Lady-Comp is a reliable, natural, hormone-free contraceptive method, simple and non-invasive. The Lady-Comp could be described as a Fertility Monitor, Ovulation Calendar and Menstrual Cycle Calculator all in one device and it's reliablity has been tried and tested over 25 years by women all over the world. It comes complete with a travel bag, power supply unit and integrated rechargeable battery. Perfect for everyday use, and you can even purchase interchangable adaptors from the Accessories area, for when you go travelling.
Device warranty is 2 years for machine default, not accessories. All have rechargeable batteries we recommend client charges themselves as these have bigger capacity, and replacing with standard batteries will go through very high volume.
**Special pricing for Shipping and handling for this item**
This is a special item which can have a longer processing time once your order is place.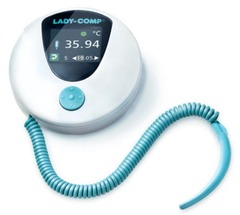 Specials are for online purchases only, don't miss out! -
Email
us to check for availability.
WHY LADY COMP?
No side effects or interference with your body
99.3% safe contraception on green days
Able to detect and learn irregular or long cycles
Immediate fertility display for the next 24 hours
Average service life +/- 10 years
Review your history of up to 180 days of cycle information
2 Year manufacturers warranty
No hormones = no side-effects.
A woman can only get pregnant on six days during each menstrual cycle: five days before ovulation and on the day she ovulates. This is a relatively short period of time and bears no relation to the considerable health damages many women expose their body to day in and day out, only to prevent a pregnancy during those six days. Does it have to be this way? We say NO!
The Natural Choice:
Lady-Comp is a high-performance fertility computer that allows you to plan or prevent pregnancy in a natural way. For those who are interested in a more active role in planning their pregnancy, Lady-Comp can be upgraded with the Lady-Comp Baby planning software. This software upgrade can be done at any time to assist with family planning and cases of reduced fertility. Lady-Comp's dual purpose adapts perfectly to your current life situation: from just starting out with prevention, to the planning of each of your children, and back to prevention when your family is complete.
Safe and reliable from day one with 99.3% accuracy:
The reliability of a method of contraception is calculated according to the Pearl Index: if 100 women use a method of contraception for one year, and one of them becomes pregnant, it has a Pearl Index of 1.0.
Lady-Comp is a computer, and its daily fertility display corresponds to a Pearl Index of 0.7. The pill, for example, has a Pearl-Index ranging from 0.1 to 0.9, while the coil's is between 1 and 3.
The Investment Pays Off!
Once you have invested in Lady-Comp, that's it. There are no subsequent costs. What's more, this modern electronic device has a long life-span, thanks to its energy-saving technology. And there is no reason to stop using the device as long as contraception is necessary.
How does the fertility computer work?
Based on your morning temperature, taken orally, the fertility computer determines your fertile days and shows you when you are ovulating by recording, analyzing and storing your menstrual cycle data. It determines your daily status of fertility and will alert you on the days when intercourse may lead to pregnancy: on the day you
ovulate – and five days before ovulation. Lady-Comp is programmed with all natural family planning research data. It contains a database of more than 900 000 cycles and uses biomathematical forecasting calculations as well as the very latest computer techniques. Your daily temperature readings are calculated and then shown on a display. It could not be any easier:
The «green» light indicates that you are infertile.
The «red» light that you are fertile.
The display is reliable from day one.
Click here for information booklet
Lady-Comp is easy to use. When you receive your personal monitor, it is already pre-programmed to display the current time and date. All you have to do before you start using it is to set the time of the integrated alarm clock to when you want to get up.
1. Take your temperature orally every morning by placing the thermal sensor under your tongue for 30 to 60 seconds.
2. With a simple press of a button you can confirm menstruation.
3. The fertility computer evaluates your data and then displays a green or red light, accurate for the next 24 hours.
Basic knowledge of life and fertility capabilities of egg cells and spermatic cells are preprogrammed. Lady-Comp already holds a vast database of reproductive knowledge and requires nothing more than your daily temperature input for its accurate calculations:
green means: «infertile»
red means: «fertile»
yellow means: «the computer is still in its learning phase».
The longer you use your device, the better it gets to know you and your individual menstrual cycle, while simultaneously increasing your own bodyawareness. The compiled cycle statistics further help you find valuable information on your individual fertility rhythm.