LipoRevolution Liposomal Vitamin C
Liposomal Vitamin C
Anti-oxidant support for cellular health immunity support Antihistamine Anti-inflammatory Joint and bone support through collagen promotion Burn, sound sprain, broken bone support Eye health Cardiovascular health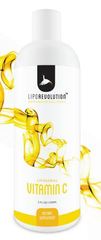 Specials are for online purchases only, don't miss out! -
Email
us to check for availability.
Liposomal vitamin C with guardian bubbles of sunflower phosphatydlcholine surrounding this powerful nutrient, provide advanced delivery to the cells. Due to this unique fatty layered carrier mechanism (which mimics the fatty layers of our body cell_, the liposomal 'bubble' is able to fuse with the same makeup that exists on cell walls. Thus, we absorb far more vitamin C in one dose (up to 90%), which is even superior to IV vitamin C absorption rates, with less cost and time commitment.
5mL daily (one teaspon) or as directed by your health professional. Take with water or juice.
These are liposomes using 400mg phosphatidylcholine per dose. Teh flavour is milder, the viscosity is lower and the liposome clear your mouth quickly the result is more tolerable.
For children over the afe of 4, add one half of a teaspoon to their favourite beverage.
150mL per bottle, serving size 5mL
Vit C (as sodium ascorbate, ascorbic acid 1000mg
Sodium (as sodium ascorbate) 125mg
Natural (non-hydrogenated) Phosphatidylcholine 400mg
Other ingredients purifiend water, natural flavours, potassium sorbate
Natural flavours are fruit and berrry extracts and contain no msg & no tomato
Vega
GMO Free
Store in a cool, dry place, refreigerate after opening, used within 45 days of opening.