Lunette Cupwipes
Lunette Cupwipes are your cleanser on the go when water is not an option. Road trips, Airplane bathrooms, festival porta-potties or just your office bathroom stall- you're totally covered. Our Cupwipes eliminate nearly all germs, and enable you to use your cup safely.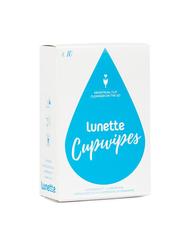 Specials are for online purchases only, don't miss out! -
Email
us to check for availability.
Totally portable- the box contains 10 individually wrapped wipes which are easy to stash in your back pocket or purse.
Sanitize your cup easily and discreetly.
Fragrance-free and irritant-free, the natural companion to your Lunette cup.
Using Lunette Cupwipes is easy! First wipe and dry the cup with a tissue, then sanitise the cup with the Lunette Cupwipe. After sanitising let the cup dry completely before you insert it again (this takes only a few moments). Furthermore it is recommended to sanitise the Lunette menstrual cup before and after your period by cleaning it with the Lunette Cupwipes or boiling it in hot water for 3-5 min.
**It is important to note that while the cup wipes are perfect for your cup, they are not suitable for cleaning your genital area**
The Cupwipes are made of eco-friendly viscose plus alcohol and water, and are biodegradable and compostable.
Our mission is to have honest and inspiring conversation about menstruation so that we can motivate period positivity- and change the world one cup at a time.
Lunette is so much more than a cup.
It's a lifestyle
It's a community
It's the future.