Manuka Health BIO30 Propolis Capsules 180 Caps
BIO™ New Zealand Propolis Capsules contain pure concentrated premium New Zealand propolis with high levels of bioactives in every dose for powerful immune support and antioxidant protection. Certified to contain a minimum of 30mg of bioactives (flavonoids and caffeates including CAPE) per 2 capsules. Available in 180, 300 & 500 capsules.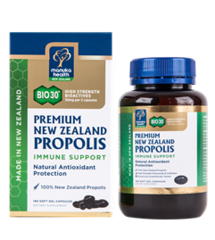 Specials are for online purchases only, don't miss out! -
Email
us to check for availability.
Propolis is known as nature's immune defence, with powerful antioxidant, anti-inflammatory, anti-bacterial, anti-viral and anti-fungal properties providing powerful support to the immune system.
Propolis is a natural substance made by bees to sterilise and protect the hive against infection. Resins collected by honeybees from the bark of plants are mixed with beeswax and enzymes, producing a powerful substance rich in bioactive compounds with potent protective effects.
Manuka Health BIO30™ New Zealand Propolis has particularly high levels of these important bioactive components. Containing at least 38 valuable bioflavonoids, phenolic acids and esters including CAPE (Caffeic Acid Phenethyl Ester), BIO30™ New Zealand Propolis is certified to contain a minimum of 30mg of bioactives (bioflavonoids and caffeates including CAPE) per 2 capsules.
Propolis capsules can help with:
Immune & Respiratory Health - Viral, bacterial or fungal infections
Digestive Health - Stomach ulcers, gastritis
DIRECTIONS FOR USE: Take up to 4 capsules daily
INGREDIENTS (per 4 capsules): BIO30™ New Zealand Propolis 280mg, providing 60mg of bioactives Capsulating aids: soyabean oil, carob powder (anticaking agent), beeswax, lecithin, d-alpha tocopherol (vitamin E)
WARNING: Propolis may cause allergic reactions in allergy sufferers. Not suitable for children under 2 years of age.