Nature's Way Black Cohosh Root 540mg 100 Capsules
Nature's Way Black Cohosh Root provides 540mg of Black Cohosh per capsule. Black Cohosh is a popular herb to help relieve menopausal hot flushing.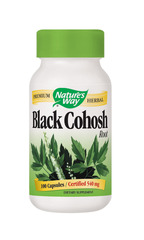 Specials are for online purchases only, don't miss out! -
Email
us to check for availability.
Popular to help relieve menopausal hot flushing Black cohosh is the most popular herbal supplement in Europe for women experiencing change-of-life (perimenopause) symptoms such as hot flushing. Black cohosh provides isoflavones and other constituents that help support a woman's health during this phase of her life. Usage: Menopausal symptoms especially hot flushing, PMS and period pain.
Take 1 capsule three times daily.
Each Capsule Contains: Black Cohosh root 540mg
To be taken by pregnant or lactation women only under the guidance of a specialist healthcare professional. Not recommended in early pregnancy. Not recommended for longer than 6 months continuous use by the German E commission, though this is not supported by recent research.