No Shift Lag 30 Tablets
Shift lag is a complex condition which occurs when working night shifts. The main cause is being awake, active and working when you would normally be asleep. This causes circadian dysrhythmia - or disruption to your awake/sleep cycle.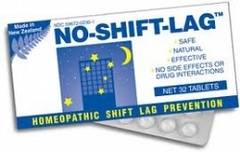 Specials are for online purchases only, don't miss out! -
Email
us to check for availability.
No shift lag can relieve symptoms of shift lag such as tiredness when due to working night shifts. Can be used with other types of medication.
Dosage:
Adults and children over 12 years of age - chew one tablet at the begining of a night shift, one tablet mid shift and one tablet at the end of a night shift. Best taken separately from meals.
Active Ingredients:
Contains equal parts of homeopathic preparations: Arnica montana 30C, Bellis perennis 30C, Ipecacuanha 30C, Phytolacca decandra 30C, Zincum metallicum 30C.