Nu-Lax Fruit Laxative 500g
Product availability dependent
Nulax Fruit Laxative - Used to assist in the treatment of constipation. An all natural and organic alternative.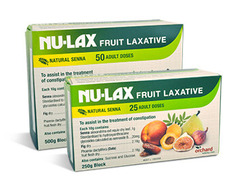 Specials are for online purchases only, don't miss out! -
Call
or
email
us to check for availability.
The active ingredients in Nu-Lax are all natural.

The ground leaf of the tropical herb senna, which was reportedly first used medicinally over a thousand years ago by the Arabs in the 9th Century, has been helping people stay regular, naturally. In Nu-Lax, senna leaf is combined with figs and dates, also recognised for their laxative powers, to create a gentle yet remarkably reliable product trusted by Australians for over 60 years. Even after one thousand years of use, recent reports continue to confirm the effectiveness of the simple senna leaf.
Adults: 10g once daily. Children: 5g once daily. Not recommended in children under 2yrs.
Senna leaf powder 800mg/10g, Dates, figs, mixed fruit, sucrose, glucose, golden syrup.
Drink plenty of water. Increase fibre in diet. If symptoms persist seek medical advice. Prolonged use of laxatives is undesirable and may lead to dependance. Do not use when abdominal pain, nausea or vomiting is present, or you develop diarrhoea. If you are pregnant or breastfeeding seek medical advice before taking laxatives.