NutraLife Digestive Enzymes Caps 60s
Triple Action Formula. With plant-sourced enzymes.

AVAILABLE IN 60 CAPSULES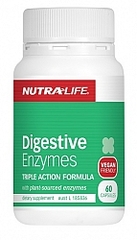 Specials are for online purchases only, don't miss out! -
Email
us to check for availability.
Why use Digestive Enzymes?
This formula combines special plant-sourced enzymes (Protease, Amylase, Lipase, Tilactase) with a traditional blend of Ayurvedic digestive herbs, in a vegan-friendly capsule.

The plant-sourced enzyme combination assists the body in breaking down the three key macronutrients (fats, carbohydrates and proteins), plus the lactose in dairy. The Ayurvedic blend of Ginger, Black pepper and Long pepper has been used for centuries to support digestion and wellbeing.

Recommended for:
*Supporting healthy digestion
*Helping the body to digest lactose
*Breaking down fats, carbohydrates and proteins
Adults: Take 1 capsule three times daily with meals, or as directed by your healthcare professional. For best results, and to maintain the effects of enzyme activity, avoid consuming large amounts of liquids with meals.
Each capsule provides

Herbal extracts equiv. dry
Zingiber officinale (Ginger) root 300mg
Piper longum (Long pepper) fruit 300mg
Herbal extract equiv. fresh
Piper nigrum (Black pepper) fruit 300mg
Digestive enzymes
Amylase 15,000 DU
Protease 35,000 HUT
Tilactase 2,000 ALU
Lipase 800 LipU
Papain 50mg
Bromelain (84GDU) 70mg Encapsulating aids
From Small Beginnings - A New Zealand Success Story

Nutra-Life has a long and proud tradition of quality assurance for over 45 years. Today, the company operates out of a state-of-the-art manufacturing facility purpose built to Therapeutic Good Manufacturing (GMP) standards, to meet the most stringent quality control requirements.

Developed specifically for New Zealand lifestyles, Nutra-Life offers a range of high quality innovative, vitamin, mineral, garlic and herbal supplements.