NutraLife Garcinia Cambogia 2700 60 capsules
60% HCA. True strength, High potency. May assist weight management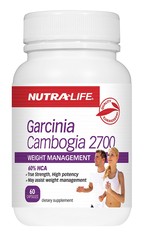 Specials are for online purchases only, don't miss out! -
Email
us to check for availability.
Why use Garcinia Cambogia 2700?
Garcina cambogia, also known as Brindleberry, orginates from South East Asia. The fruit extract used in this formula is taken from the rind of its purple pumpkin-like fruit, which is rich in Hydroxycitric acid (HCA). Scientific studies have shown that 1200mg of HCA per day can assist weight management when taken in conjunction with a calorie controlled diet and exercise programme.

This product provides a true-strength of 8100mg* Garcinia cambogia fruit rind equiv. dry with 60% HCA.

*based on 3 capsules per day

Recommended for:
*Assisting weight management
Adult: Take 1 capsule 30-60 minutes before a meal 2-3 times daily, or as directed by your healthcare professional. This product should be used in conjunction with a calorie controlled diet and exercise programme.
Herbal extract equiv. dry
Brindleberry
(Garcinia cambogia) fruit rind 2700mg 5400mg 8100mg
Equiv. HCA (Hydroxycitric acid) 540mg 1080mg 1620mg
Colour, Encapsulating aids
Formulated without:
Gluten, wheat, dairy products, egg, soy, corn, artificial flavours, artificial sweeteners, preservatives.
People with diabetes should consult a healthcare professional prior to using this product. Do not take this product if you are pregnant or while breastfeeding.
From Small Beginnings - A New Zealand Success Story

Nutra-Life has a long and proud tradition of quality assurance for over 45 years. Today, the company operates out of a state-of-the-art manufacturing facility purpose built to Therapeutic Good Manufacturing (GMP) standards, to meet the most stringent quality control requirements.

Developed specifically for New Zealand lifestyles, Nutra-Life offers a range of high quality innovative, vitamin, mineral, garlic and herbal supplements.