NutraLife ProBiotic 50 Billion 30 Capsules
Nutra-Life ProBiotic 50 Billion contains 11 strains of probiotic bacteria, including the significantly researched HOWARU, to assist in the maintenance of healthy gut microflora and to support a healthy immune system.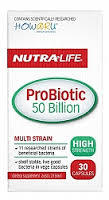 Specials are for online purchases only, don't miss out! -
Email
us to check for availability.
Beneficial for:
Maintaining healthy digestion and friendly bacteria levels
Assisting customers with digestive disturbances, e.g. bloating, flatulence, diarrhoea, constipation and poor digestion
Maintaining a healthy immune system and energy levels
Supporting customers who are taking antibiotics
Maintaining urinary & genital tract health

Key and unique features:
Multi-strain - combines 11 strains of specially selected, scientifically-researched, acid-resistant probiotic bacteria for improved effectiveness and digestive benefits
50 billlion CFUs of safe and effective probiotic bacteria including the clinically researched HOWARU® strain
DRcap™ technology means the probiotics are protected from the acidic environment of the stomach, as the vege capsule will breakdown in the small intestine
1-a-day, shelf stable, easy to swallow vege capsule
Adults: 1 capsule daily with food, or as directed by your healthcare professional.
Each Capsule Provides:
Proprietary blend 50 billion CFU from:
Lactobacillus acidophilus 20 billion CFU
Bifidobacterium animalis ssp. lactis 10 billion CFU
HOWARU Bifidobacterium animalis ssp. lactis 10 billion CFU
Bifidobacterium breve 2.5 billion CFU
Bifidobacterium longum 2.5 billion CFU
Lactobacillus casei 1.25 billion CFU
Lactobacillus paracasei 1 billion CFU
Lactobacillus plantarum 1 billion CFU
Lactobacillus salivarius 1 billion CFU
Lactobacillus rhamnosus 0.5 billion CFU
Lactobacillus delbrueckii ssp. bulgaricus 0.25 billion CFU
Also contains: Encapsulating aids.
Formulated without: gluten, wheat, dairy products, egg, soy, corn, artificial colours, artificial flavours, artificial sweeteners or preservatives.