Nuzest Clean Lean Protein 500g Rich Chocolate
Premium European Golden Pea Protein!
The allergen-free and 100% natural vegetable protein that's great for every-body High in protein yet low in carbs and fat, it supports healthy weight management and helps your body recover faster, so you can get back doing the things you love.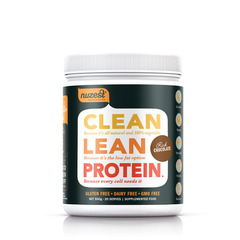 Specials are for online purchases only, don't miss out! -
Email
us to check for availability.
Clean Lean Protein is protein in its purest form - natural and free from all common allergens. No gluten, dairy or soy GMOs or artificial preservatives. It's 100% vegetable, low in carbohydrates and high in digestible protein. Clean Lean Protein is the ideal protein supplement to support an active lifestyle and good nutrition. Perfect for those wanting to look, feel and perform at their best
Pea Protein Isolate

Cocoa Powder

Vanilla Flavour

Katemfe Fruit Extract

Cocoa Extract
​
Nutrition Facts(per 100g)

Energy1570 kj

Protein80.0 g

Fat1.96 g

- saturated0.67 g

Carbohydrate6.63 g

- sugar0.67 g

Dietary fibre4.67 g

Sodium1.88 g

- sugar0.35 g

Dietary fibre2.54 g

Sodium1.45 g
NuZest products are designed to fill the nutritional gaps caused by nutrient-deficient food, stressful lifestyles and poor eating habits.
Our unique formulae are some of the most advanced nutritional supplements on the market – every ingredient, and every form of ingredient, backed by a sound scientific rationale. Our formulae are regularly reviewed and improved upon to ensure NuZest products are always aligned with the most up to date research and information.
So welcome to NuZest – and a new approach to feeling great.