Oasis Apple a Day Anti-Aging SPF25 Moisturiser 50ml
Apple a Day is no lightweight It's packed with anti-ageing vitamins A, C & E plus active naturals including green apple to lighten and brighten your skin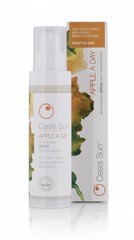 Specials are for online purchases only, don't miss out! -
Email
us to check for availability.
WHY USE AN OASIS DAILY MOISTURISER?
It will seal in moisture
It will give your skin the nutrition it needs to get it looking it's best
It will protect your skin from the sun so no wrinkles or sun spots for you!
Some people are prone to fine lines and wrinkles, some get acne or have dry skin – so we have 3 winning daily moisturisers to pick from - Knock-Out, Power Punch and Apple a Day

RECOMMENDED FOR:
Combination skin, t-zone, sensitive skin, autumn skin care, normal skin, anti-ageing skin care, skin lightening, dull or tired skin, stressed skin, hyperpigmentation, uneven skin tone and texture
HOW DOES APPLE A DAY WORK?
Green apple is an old fashioned remedy to brighten, lighten and tighten the skin. Believe us, it works a treat!
Rosehip, apricot kernel and sweet almond hydrate your skin without making it feel heavy
Vitamin A forces your skin cells to turn over faster, bringing new fresh skin cells to the surface = smooth, healthy skin!
Vitamin C fights off those nasty free radicals to stop your skin looking older than it really is
Vitamin E and honey heal blemishes and acne scars
Lecithin and glycerin are humectants that absorb moisture and swell, filling fine line and wrinkles
Evidence shows that red grape (resveratrol) improves fine lines and wrinkles, reduces dryness, and smoothens skin texture. Yippee! That's why we put lots of that in!
Skin is soothed the good old-fashioned way with chamomile
Non-nano zinc and methoxycinnamic work together to protect skin from sun damage without blocking your pores and causing breakouts
The anti-inflammatory properties of rosemary reduces skin puffiness
HOW TO APPLY YOUR APPLE A DAY
Apply after cleansing and toning
For an extra skin boost, layer a serum underneath first (see hint below)
Pump 2-3 pumps of product onto the back of your hand. Use other hand to dot over face and neck. Join the dots and evenly spread it over your skin by gently massaging
For the best sun protection, don't completely rub it in until it's disappeared. Instead, give Apple a Day a few minutes to naturally sink into the skin.
BB cream, foundation or powder can then be applied over the top if you wear it
Apple a Day is highly recommended as a skin primer under your Oasis BB cream, especially if you wear the matte finish shades, The Monroe (light) or The Hepburn (medium)
FULL INCI FOR THE TECHNICALLY INTERESTED
Pure NZ water (aqua), sorbitan monostearate (plant-based emulsifier), organic rosa rubiginosa (rosehip) oil, prunus armeniaca (apricot kernel) oil, prunus dulcis (sweet almond oil), zinc oxide (sunscreen agent), p-ethyl hexyl methoxycinnamic acid (sunscreen agent), dl-alpha tocopherol (vitamin E), polyoxythylene sorbitan monostearate (plant-based emulsifier), vegetable glycerin, soya lecithin (humectant), cetostearyl alcohol (plant-based emulsifier), retinyl palmitate (vitamin A), ascorbyl palmitate (vitamin C), prunus malus (apple) extract, vitis vinifera (grape) extract, rosmarinus officinalis (rosemary) antioxidant, dehydroacetic acid (and) benzyl alcohol (Biogro approved preservative), fragrance oil, xanthan gum (food grade thickener), matriaria chamomilla (german chamomile) essential oil
Contains 95% natural & organic ingredients
We use non-nano zinc
No artificial colour, parabens, mineral oil, phthalates, sulfates, propylene or butylene glycol, sodium lauryl sulfates or animal products
Oasis products have never and will never be tested on animals