Radiance Multi For Pregnancy 60 Tablets
Radiance Multi For Pregnancy provides key vitamins, nutrients and minerals for optimal support. Optimal nutritional support during preconception, pregnancy and lactation is vital for the health of the pregnant mum and baby.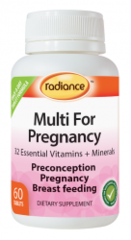 Specials are for online purchases only, don't miss out! -
Email
us to check for availability.
Radiance® Multi For Pregnancy provides an array of 28 vitamins and minerals to help boost a woman's nutritional strength during these important phases of procreation.
Preconception is a time of preparation, building health and wellness and ensuring nutritional levels are optimised.
Pregnancy is a dynamic time of change and development for both mother and her growing baby. The demands placed upon a woman's body during pregnancy are beyond those she will likely experience during any other time in her life.
Lactation is also a time of change and high demand, as the rapidly growing infant depends on the quality of mother's milk to survive and develop at an optimally healthy rate.
One of the most comprehensive pregnancy multi vitamin and mineral formulas available in New Zealand, Radiance® Multi For Pregnancy provides many nutrients not readily available in our local food supply or other prenatal supplements.
One capsule daily preferably with meals.