Rapid Antigen Test
Healgen Rapid Antigen Test (Single test)
The Rapid COVID-19 Antigen Test is an in vitro immunochromatographic assay for the qualitative detection of nucleocapsid protein antigen from SARS-CoV-2 in direct nasopharyngeal (NP) swab from individuals who are suspected of COVID-19 by their healthcare provider. It is intended to aid in the rapid diagnosis of SARS-CoV-2 infections.
https://www.eboshealthcare.co.nz/catalogue-products/diagnostic/healgen-rapid-antigen-self-tst2/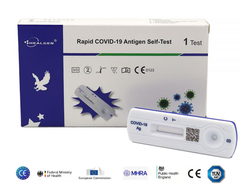 Specials are for online purchases only, don't miss out! -
Email
us to check for availability.
For Self-Testing for COVID 19
Easy to Use: No special equipment needed, intuitive visual interpretation
Product Specification
Specification Type: Specification Value
Product Range: Rapid and POC Tests, Rapid and POC Tests
Product Code: 28990002
Product Name: Healgen Rapid COVID-19 Antigen Self-Test Single Cassette (CE Marked 15min Nasal Swab)
Product Category: COVID-19 & Coronavirus Rapid Tests, Home & Self Testing
Product Brand: Healgen Scientific
Product Analyte or Application: SARS-CoV-2
Product Size: Single Self-Test x 1
Product Storage: 2°C to 30°C
Rapid: Quick sampling with results in 15min
Convenient: All necessary reagents provided & no other equipment needed
Accurate: Relative Sensitivity 97.25, Relative Specificity 100%, and Accuracy 98.73
ISO13485: Healgen manufacture in accordance with their ISO13485 Quality Management accreditation. They also hold many additional ISO accreditations.