Redd Remedies Gouch! 60s
Do you experience attacks of sudden burning pain, stiffness and swelling in your joints, usually your big toe? The causes are a buildup of uric acid in the blood. The kidneys normally remove uric acid from the body, but if your levels become unhealthy, problems can arise. It can lead to the formation of hard crystals in your joins. Left untreated, this buildup can cause long-term harm to your joints, tendons and other tissues.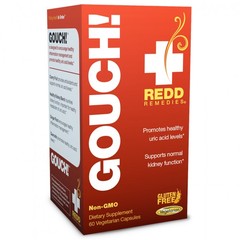 Specials are for online purchases only, don't miss out! -
Email
us to check for availability.
Gouch!™ is an award-winning blend of antioxidants and herbs designed to encourage a healthy inflammatory response and promote healthy uric acid levels.*
Gouch!™ targets the following 3 key functions promoting joint health:
promotes normal, healthy kidney function*

supports healthy uric acid levels*

encourages a healthy inflammatory response*
Redd Remedies is the culmination of years of work, research, and an uncompromising desire to offer the best products to our customers – but what does it really mean to offer "the best"? We have all heard those words before, likely a few
too many times. Our experience is that the best results are achieved when we integrate a balanced approach which focuses on our desired outcomes and includes natural medicine from all modalities.
So in Redd Remedies formulas, you will find Traditional Chinese Medicine, Ayurvedic medicine, aromatherapy, European herbals, vitamins and minerals. It is the tens of thousands of quality studies on natural medicine, as well as a rich tradition, that sets the stage for us at Redd Remedies. When we formulate, we search all the natural medicine world has to offer. You will find our products work quickly, going beyond the surface and focusing on the core of the problem.