Regaine Extra Strength 4 Months Foam LAST CHANCE 60g
**Expiry May 2019**
Last chance to get this great value pack. Only while stock lasts!
Regaine For Men FOAM - 4 Months 60g
Regaine for Men contains the only clinically proven topical ingredient in New Zealand to treat Hereditary Hair Loss.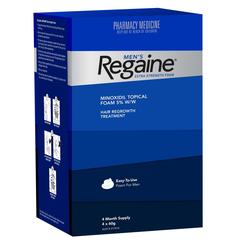 Specials are for online purchases only, don't miss out! -
Call
or
email
us to check for availability.
Revolutionary Mens REGAINE Foam is easy to use, and best of all—it works! Make REGAINE Foam part of your everyday routine, and feel proud of your hair again.

REGAINE Foam is:
- Easy to use as part of your daily routine
- Fast drying
- Less messy than other topical hair regrowth products

How does REGAINE Foam work?
- Reinvigorates shrunken hair follicles
- Increases and prolongs the hair growth phase
- Helps grow longer and thicker hair follicles over time

To get the most out of REGAINE Extra Strength Foam, it's important to apply directly to your scalp—twice a day, every day.

The amount of hair regrowth is different for each person. This product will not work for all men. Keep reading to see if Regaine is for you.

MEN'S REGAINE EXTRA STRENGTH FOAM is for men who have a general thinning of hair on the top of the scalp (vertex only, as shown below). Not intended for frontal baldness or a receding hairline. Men's REGAINE has been shown to regrow hair in men with the following degrees of thinning hair or hair loss.


Directions for Use
REGAINE FOAM - Apply directly to your scalp - Twice a day Everyday
Active Ingredients:
Minoxidil Topical Foam 5%. w/w Other ingredients: Ethanol, propellant (hydrocarbon)
Dosage:
Adults: Massage Regaine Foam sparingly onto the affected area of dry scalp, twice a day. Up to half a capful may be used. Men with a small area if hair loss may use less. Do not use on other parts of the body. Using more than half a capful of foam or more often than twice a day will not improve results. Read the detailed directions for use inside the packet.

Extended Information:
It takes time to regrow hair. You may need to use Regaine for at least 4 months before you see results. Continual use is necessary to improve and at least maintain your hair growth. Please note that all Regaine products are excluded from any Pharmacy Direct global discount promotions.
Warnings:
For more detailed important Product Information, click here to go to the Regaine Website Regaine is a topical treatment and please follow the instructions included with each pack. Keep all medicines out of the reach of children. Do not use Regaine if.. your hair loss is sudden and/or patchy if your scalp is inflamed, red, irritated , infected or painful. You do NOT have a family history of hair loss You have had an allergic reaction to Regaine or any of its ingredients You are under 18 years or over 65 years of age. (Women) you are pregnant or breastfeeding. Please consult your doctor or pharmacist before use if you have any heart problems.