Revitive Circulation Booster CX GREEN
Our simpler model REVITIVE CX Circulation Booster has 8 Stimulation Waveforms and 1-99 Intensity levels.
Soothes aching, tired feet and legs Reduces swollen feet and ankles Improves circulation in feet and legs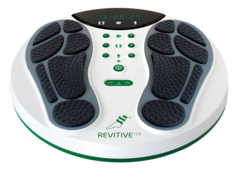 Specials are for online purchases only, don't miss out! -
Call
or
email
us to check for availability.
The ALL NEW REVITIVE CX is a Class IIa medical device designed to increase leg circulation. It uses Electrical Muscle Stimulation (EMS) to stimulate the muscles in your lower legs and feet to help counteract stasis and help maintain healthy legs. By placing your bare feet on each of the footpads, therapeutic electrical impulses stimulate the nerve endings on the soles of your feet. This causes the contraction and relaxation of muscles in the lower legs. This action is clinically tested & shown to increase circulation.

A typical session lasts 20-30 minutes. Use the device daily in order to feel the effects.
Designed To;
Increase lower leg circulation
Reduce swollen feet and ankles
Alleviate aches and discomfort
You should not use the Revitive Circulation Booster is you are in your first trimester of pregnancy, have a Pace Maker or AICD or if you have an existing DVT. Please consult your doctor if you have a history of epilepsy.